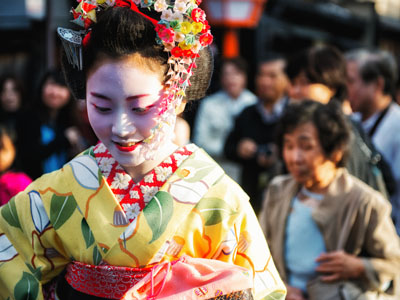 Transportation: Takayama - Kyoto (Train Ticket)
Tour: Afternoon Tea with a Maiko
Accommodation: Hyatt Regency Kyoto
Meals: B
To make this journey it's a two and a half hour ride on the Limited Express from Takayama south to Nagoya, then just another 37 minutes further by Shinkansen west to Kyoto.
Afternoon Tea with a Maiko
For many people, the quintessential image of Japan is a graceful geisha in an exquisite kimono, darting through a sliding screen door into a traditional tea house. It's a scene that embodies both the geisha's beauty and mystery, as the geisha and their maiko apprentices move almost in secret, through a world largely hidden behind closed doors. Often misunderstood in the West, geisha are essentially artists, highly skilled in traditional arts such as fan dancing and shamisen playing and are masters of wordplay and social etiquette. Although geisha numbers have dropped dramatically since their heyday in the 1920's, in today's Japan, they are also the caretakers of these traditions, making sure time-honored Japanese arts and crafts are not lost.

The majority of geisha live and work in Kyoto and are known as geiko in the local dialect. Gion is Kyoto's most famous geisha district with a large concentration of ochaya tea houses, where the geiko entertain guests most evenings. Not just anyone can enter an ochaya however; in traditional Japanese society, hierarchy and social connections are everything, and most Japanese will never have the honor of an official invitation.

Fortunately, we have solidified a strong link with one ochaya run by a very hospitable hostess, who speaks good English. We will arrange a 45 minute visit for you, to receive a fascinating glimpse into the geisha world. Over a cup of green tea and a Japanese cake, you'll be entertained by a geisha or maiko, who will perform a traditional dance for you. An introduction to the life of a Geisha in Kyoto will be given in English, and you will also be able to take photos and ask any questions you may have. Please note that a visit to such a special tea house is subject to availability, and cannot be arranged at short notice. Date or time changes are also unlikely to be accommodated.

A local private guide will accompany you to your experience with the apprentice geisha. Your guide will come to your accommodation at around 9:00 AM. If there is extra time afterward, you will be able to see a few more nearby sights with your guide. Your guiding will finish at around 1:00 PM either back at your accommodation or anywhere else in the city you wish. Any entrance fees and transport will be included.(This service is on a private basis.)
Kyoto
Kyoto is one of the most culturally rich cities in all of Asia. Home to 17 UNESCO World Heritage sites, over 1,600 Buddhist temples and 400 Shinto shrines, this ancient city showcases the heart and soul of traditional Japan. Kyoto boasts a variety of world class gardens, majestic festivals and delicate cuisine, which collaborate into something truly beautiful. The colorful changing seasons, feature a different adventure in itself, during every time of year. At first glance, Kyoto appears to have its fair share of neon and concrete, typical of large Japanese cities. However, you will quickly be able to pick out Kyoto's charming treasures - sacred shrines tucked between shopping arcades, time-honored tea houses nestled amidst modern businesses and mysterious geishas scuttling down backstreets between tourists.