For millennia, Victoria Falls, Zimbabwe has awed Africans and international travelers from around the world with its majesty. The original inhabitants of the area of south-central Africa where the Zambezi River's course plunges straight down into a dramatically carved gorge have revered this river's display of power. "The Smoke That Thunders", which some call the falls, continues to have many visitors today, drawn to its astounding presence.
What is Victoria Falls
Ask anyone who has been to Victoria Falls what it is, and they will likely tell you that it simply defies description! In simple terms, Victoria Falls is considered to be the world's largest waterfall when in full flow. As stated above, it is formed by the Zambezi River as one of its many bends flows north to south of a massive cliff band, changing from a wide, shallow braided channel to a narrow, rushing gorge. Over a mile wide (5,604 ft/1,708 meters), the falls plummet to Devil's Pool as they gush around islands and a total of nineteen viewpoints! Victoria Falls may as well be called "Zimbabwe Falls", as it is hands-down the most spectacular set of waterfalls in the country and arguably the entire world!
Victoria Falls falls into Batoka Gorge, spectacularly beautiful in its depth, with fine lodges at its edge and eagles soaring its skies. Batoka offers not only stunning natural scenery, but also opportunities for cultural activities as well with indigenous cultural villages near its rim. The entire region surrounding Victoria Falls is supremely beautiful and impressive.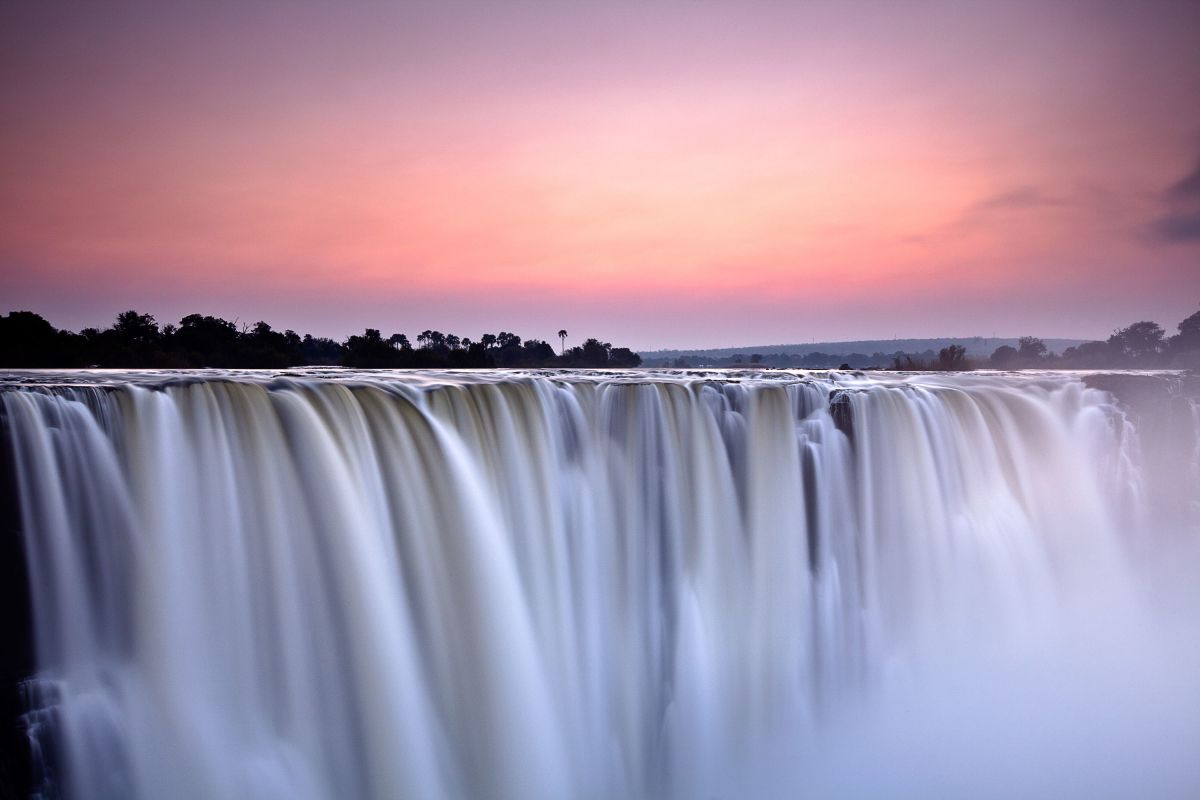 The Importance of Rivers in Africa
A largely arid continent, rivers are of supreme ecological and cultural significance in Africa. The Nile is the world's longest river and supports millions of people as it flows through a dozen countries, and many other African rivers provide habitats and drinking water for rich biodiversity and many cultures.
Rivers are often used to demarcate boundaries between regions, countries included. This is the case in many locations in Africa, as rivers such as the Katigumba dividing Uganda, Rwanda and Tanzania, and the Limpopo dividing South Africa and Botswana. To learn about rivers is to begin to know a place!
While these rivers' locations are known by historic local knowledge and now by maps, the location of the Zambezi and its Victoria Falls can be known by a truly unique means. From miles away, the rising mist from the pounding cascade and roar of the falling waters can be seen and heard. Named in the regional Lozi language as Mosi-oa-Tunya (meaning "The Smoke that Thunders"), Victoria Falls' historic and legendary majesty is included as one of the Seven Natural Wonders of Africa. Some of the other peoples who have recently lived along the Zambezi in the region of Victoria Falls have been the Matabele, Makololo and others.
Where are Victoria Falls?
Because Victoria Falls is in Southern Africa, a region of the world many of us are unfamiliar with, and because the Zambezi flows such a circuitous route, it can be a bit confusing to figure out Victoria Falls location. A bit of research will reveal that Victoria Falls lies in the far north of Zimbabwe, right where five southern African countries meet: Angola, Zambia, Zimbabwe, Botswana and Namibia. While Victoria Falls can be accessed from any of these countries, it is most easily done so from Zimbabwe, then Zambia, and on to Botswana, Namibia and Angola. There are nearby airports that can accommodate flights from any of these countries and others.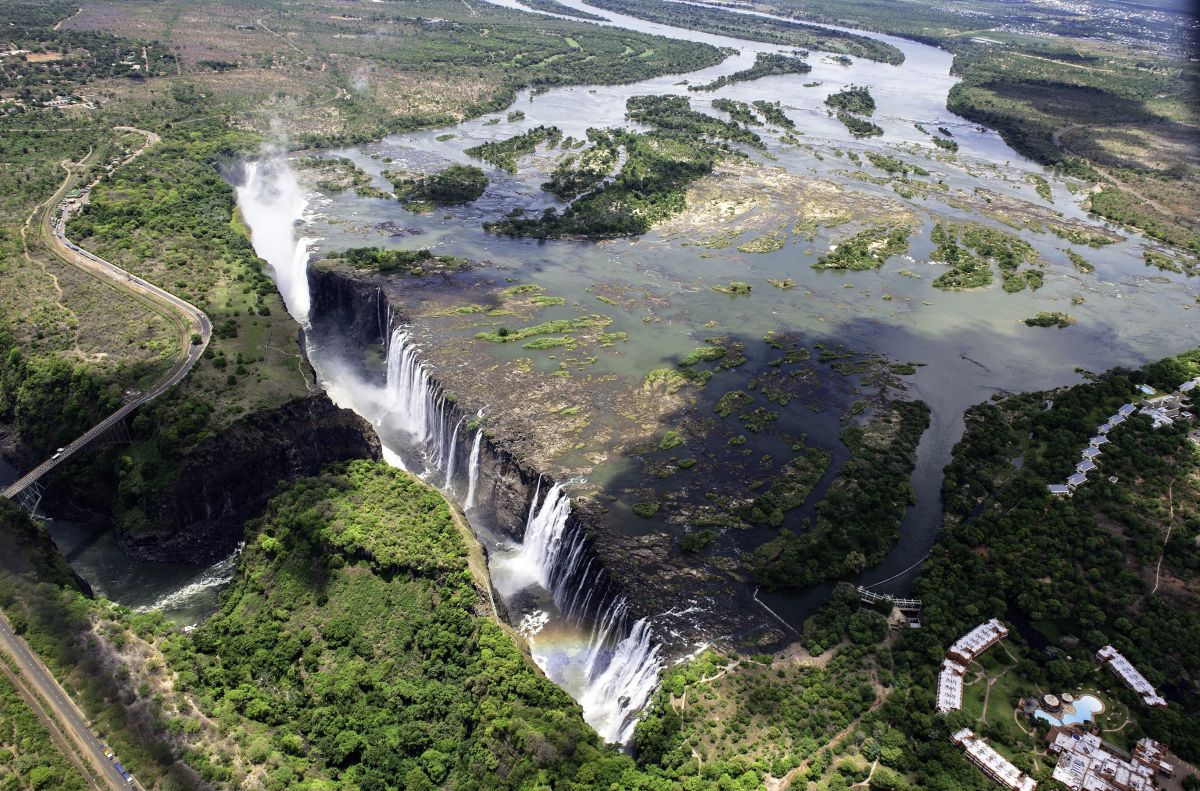 Victoria Falls Tourism
The opportunities for exhilarating tourism activities around Victoria Falls are never ending! Though the falls are running quite low currently due to the drought, the scenery is still jaw-dropping and excitement is still on offer. The numerous viewpoints all around the falls still provide sweeping views of the area, and though river rafting isn't at its prime, other things to do are abundant. Test your nerves and take in the views with giant swings, bungee jumping, and flights over the falls!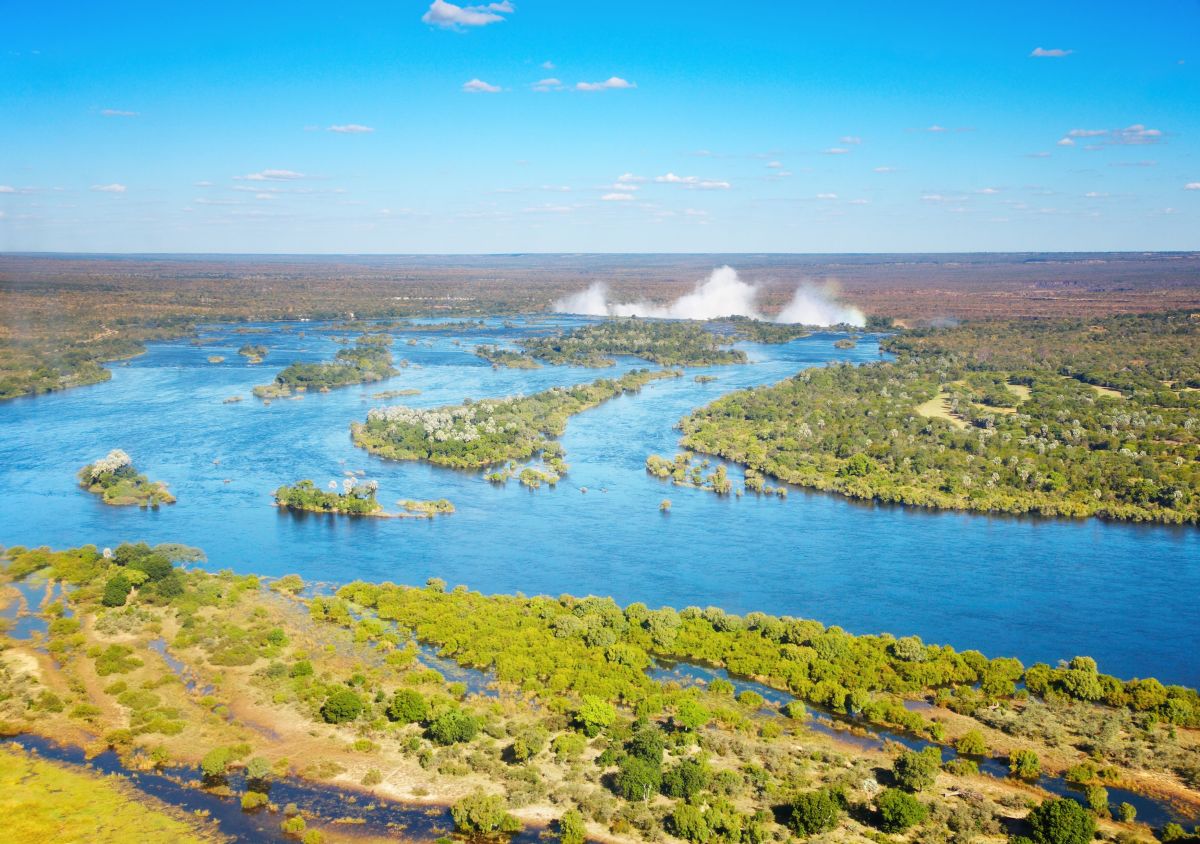 Canoeing the nearby Siansimba Islands is often available as well, and is a peaceful way to explore the Zambezi River watercourse.
Seeing Victoria Falls in its full flow is one kind of satisfaction, but so are any Zimbabwe tours where the country's nature and culture are seen and appreciated. Experiencing sustainable tourism is important in supporting the kind of community programs supported by responsible tour operators like Global Basecamps' partners in Zimbabwe.
If wildlife and conservation are more your thing, the north of Zimbabwe has just the thing to experience and contribute to. Zambezi National Park has wildlife viewing on bush walks and game drives where you can assist rangers in checking poachers' snares. Poaching is still a serious issue in Zimbabwe as struggling and marginalized villagers seek out means to feed themselves and their families. The good news? Operators we partner with in Zimbabwe have developed programs that can support these people.
A prime example of this is Imvelo Lodge, who CAMPFIRE program empowers local people to be involved in the ecotourism industry and wildlife conservation. "This natural resource management project looks at local community involvement in tourism and wildlife conservation. CAMPFIRE is the acronym for Communal Areas Management Program for Indigenous Resources. The philosophy underlying the project is: the people living within the natural resources are best placed to manage them and when doing so in a positive way, should reap the benefits directly."
Victoria Falls in Zimbabwe, and the rest of this special part of southern Africa, should be at the top of your list of travel dreams - get in touch with our Travel Specialists to start planning your trip to Zimbabwe today!