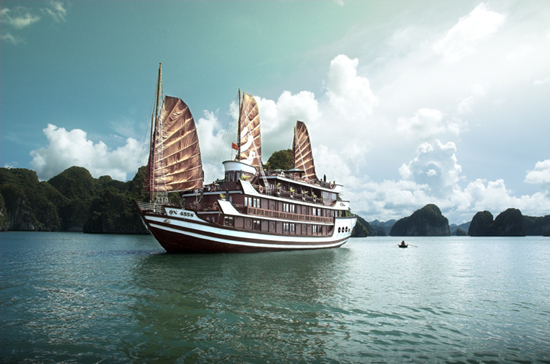 Tour: Ha Long Bay Junk Cruise
Accommodation: Bhaya Cruise Junk
Meals: B, L, D
Ha Long Bay Junk Cruise
After an early breakfast, you'll leave for Ha Long Bay, one of the most spectacular UNESCO World Heritage Areas and the world's largest marine limestone 'karst' landscape. There you'll board a wooden junk to take you round the Bay before stopping off at a beach on an island.

Weather permitting, you'll be able to swim, fish, and climb a hill (not a mountain!) for an overview of the Bay's remarkable seascape. From there, you'll continue your cruise to visit a fishing village - you'll also have an opportunity to investigate one of the bay's sea level caves in a small sampan or a kayak. The route is designed to avoid the busy areas and includes a very quiet location for your overnight stay.

For your two-day Ha Long excursion, you'll board the Bhaya Cruise, one of the largest wooden boats on the Bay. It's a wooden junk based on the model of the old Vietnamese court vessels with two barge sails, a wide transom with a rectangular superstructure. The boat has 16 Deluxe Twin/Double cabins, 2 Bhaya Suites and 2 Royal Suites which can accommodate a maximum of 40 people, so you're likely to be joining other travelers for the cruise.
Ha Long Bay
Seemingly infinite, the towering islands of Ha Long Bay form a landscape unique to this world. From sunrise to sunset, Ha Long offers some of the most beautiful sights in all of Asia, either from the deck of your Chinese style boat, from your kayak, or from a private beach enjoying a seafood lunch.