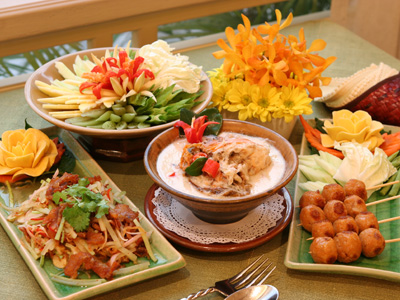 Tour: Local Family Cooking Experience
Transportation: Airport Transfer
Transportation (Air): Domestic Flight
Transportation: Airport Transfer
Accommodation: Mom Tris Villa Royale
Meals: B, L
Chiang Mai - Bangkok
Flight #: Bangkok Airways PG226
Departs: 4:40 PM
Arrives: 6:00 PM

Bangkok - Phuket
Flight #: Thai Smile WE239
Departs: 8:35 PM
Arrives: 10:05 PM

*Please Note: Domestic flights are not included
Local Family Cooking Experience
Around 9:00 AM this morning, you will be transferred to a local village for an unforgettable cultural experience. Today, you will visit the house of the Raunkaew-Yanon family, who arrived in the area possibly on the back of an elephant, almost 150 years ago! They are a Lanna family, continuing the traditions of many generations in building their homes of teak wood and maintaining the natural surroundings in a way now rarely seen in Chiang Mai.

During today's cooking class you will learn more about their culture, their way of living and the architecture of a traditional Thai house and rice barn. The thriving family orchard grows many types of fruits, such as banana, mango and coconut, while the garden is filled with herbs for cooking. The local family will also demonstrate their unique practice and skills of making a small bamboo basket.

A true treat to your senses, today you will cook using traditional home cooked recipes with authentic Northern Thai flavors, much different from standard dishes offered in commercial cooking classes. You will even get to select the fresh ingredients from the garden yourself, so you will be hands on every step of the process. Best of all, you will have the opportunity to truly get to know a real Thai family, be their house guest for the day and share a delicious home cooked lunch! (This service is on a private basis.)
At 2:30 PM it's time to say goodbye to charming Chiang Mai and head down to southern Thailand, today. This afternoon following your cooking experience, you will be transferred to the airport in good time to board your domestic flight to the picturesque island of Phuket (via Bangkok).
Upon in Phuket, you will be greeted at the airport by your driver and transferred directly to your resort. Check in and enjoy the evening as you wish! (This service is on a private basis.)
Phuket
Phuket is Thailand's largest and arguably most well known island. The island's size contributes to it's diverse offerings in accommodations and experiences, from luxurious secluded pool villa properties to boutique resorts close to all the action - restaurants, shopping and nightlife. Phuket also serves as excellent base for those looking to explore the surrounding marine parks, jungles and nearby islands.