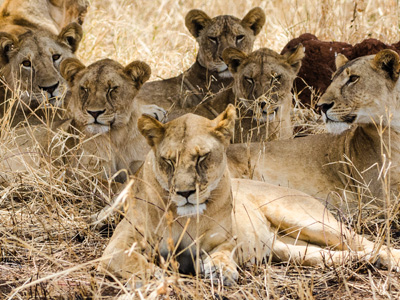 Tour: Entrance to Tarangire & Game Drive
Accommodation: Nasikia Tarangire Ndovu Camp
Meals: B, L, D
Entrance to Tarangire & Game Drive
This morning, your private guide and driver will meet you at the hotel, as you are whisked away to the start of your safari exploration! Today's 3 hour journey will transfer you from Arusha to the legendary Tarangire National Park. Upon entering the park, your game driving adventure will begin en route to your safari camp. Once you have arrived, get settled into your room and venture off again to explore the national park in the late afternoon.
Tarangire National Park
Tarangire National Park is one of the most diverse in Tanzania, situated in the north-western corner of Tanzania's Masai Steppe, east of The Great Rift Valley and covering an area of 1,360 sq km. The region boasts large herds of elephant and buffalo, as well as an impressive concentration of big cats. Arguably, Tarangire offers the best bird diversity in East Africa, with more than 500 species. But there's more to this incredible place than the game and birds. The rugged landscape offers a unique safari backdrop, that transforms from rolling grasslands and vibrant swamps, to forests of enigmatic baobab trees. According to legend, the trees were planted 'upside down' for growing too tall and proud.