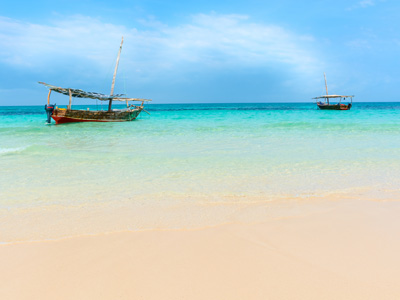 Tour: Journey to the Coast
Transportation (Air): Domestic Flight
Accommodation: Ras Kutani
Meals: B, L, D
Selous Game Reserve - Dar es Salaam
Flight #: Charter Flight
Departs: TBD
Arrives: TBD
Journey to the Coast
Indulge in an early morning tea or coffee in bed, as the impalas meander past your room and you listen to the sounds of the wild...a perfect way to start your last day at Siwandu. After packing up your things, it will be time to say goodbye to the camp managers and staff. Head off on one slow game drive en route to the airstrip, to savor your last sights of the exotic African wondrs. As your domestic charter flight back to Dar es Salaam takes off, admire the great Maasai giraffes traversing the land below. Upon arrival in Dar es Salaam, you will be welcomed by a driver and taken on a fascinating road transfer to Ras Kutani. The journey time for this drive is approximately 90 minutes, arriving ar Ras Kutani in time to enjoy a delicious lunch.

Ras Kutani is a small coastal castaway retreat, set alone on a pristine beach of white sands, cooled by the Indian Ocean. Immerse yourself in the spirit of relaxation and indulgence, which is Ras Kutani's specialty. With a choice of walks along the beach, exploration of the coastal forest or visits to the local village, there is no problem staying busy. Venture into the water, with opportunities to boogie board, kayak, snorkel, watch turtles hatch or even catch a glimpse of a passing humpback whale!
Swahili Coast
The heavenly Swahili Coast is recognized as the coastal region in Southeast Africa, which is inhabited by the friendly Swahili people. For centuries, the Swahili Coast has blended the cultural traditions and practices of Africa, Arabia and India. This captivating mix is best revealed by the craftsmanship of the Swahili people. The unique Swahili design techniques, using geometric shapes and curling arabesques, reflect Arab tastes, although the way in which these designs are put to use have been shaped purely by African customs and spiritual beliefs. Just off the coast, you can find some of the Indian Ocean islands, including Zanzibar, Pate and Comoros. If you are looking for a pristine hideaway and quiet escape, than welcome to paradise!