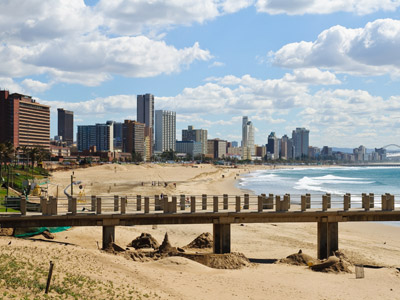 Tour: Half Day City Tour
Transportation: Airport Transfer
Accommodation: The Cape Milner
Meals: B
Half Day City Tour
Today, you will experience South Africa's third-largest city on a private exploration. The tour starts along the "Golden Mile" with its beaches, curio sellers, and rickshaw pullers. A slow drive through the city center offers an ideal opportunity to see the historic Farewell Square and the classic architecture of the City Hall, Central Post Office, Play House and Local History Museum. Continue from there, to visit the outskirts of the city and the leafy suburbs of the Berea en-route to the Killie Campbell Museum. This is the former home of the Campbell family, who were prominent philanthropists and collectors. Your next stop will be the Mashu Museum of Ethnology, which includes artworks, cultural artifacts and an extensive beadwork collection reflecting the colorful and vigorous tradition of the Zulu people. Finish off an exciting day, with a visit to the stately Kings House, followed by a short walk through the lovely Botanic Gardens, which were founded back in 1849. (This service is on a group basis.)
After your exploratory walk through Durban, you will be transferred to the King Shaka International airport for your flight to Cape Town where upon your arrival, collect your luggage and make your way to your waiting coach. You will be transferred to your hotel for an afternoon free to explore at your leisure. (This service is on a group basis.)

*Please note - This flight is not included at this time but can be arranged upon request.
Cape Town
Cape Town is one of the most beautifully situated cities in the world. Cradled by Table Mountain, it has immense charm and historical interest, while it's unique cultural blend of part African, part European and part Asian, makes for a cosmopolitan dining experience. Take the cable car or walk up Table Mountain, visit the colorful Malay quarter or meander through the wonderful Kirstenbosch Botanical Gardens. Browse through the vibrant Greenmarket Square, take a boat trip to Robben Island or simply relax on the beach. When you want to explore further, the Cape Peninsula offers one of the finest coastal drives in Africa to the Cape of Good Hope. Here, you might see whales breaching just off the bay or quirky African penguins on Boulder's beach. With so much to do and see in Cape Town, adventure truly awaits!