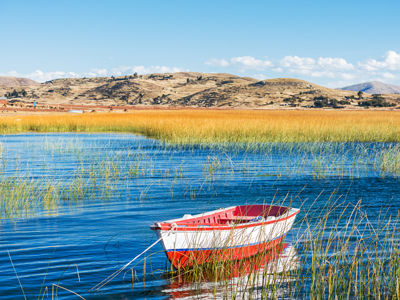 Transportation: Airport Transfer
Tour: Titilaka Arrival
Accommodation: Titilaka
Meals: B, L, D
Today, you will be picked up at your hotel in Cusco and transferred to the airport. (This service is on a private basis.)
Titilaka Arrival
You are welcomed on arrival at Juliaca Airport by our Guest Services Representative and transported to Titilaka lodge. You will pass through Juliaca and the port city of Puno. Upon arrival at the Lodge, check-in, rest, and enjoy the scenery as you acclimate.

Upon arrival at the Lodge, check-in, rest and enjoy the scenery. Lunch is based on the region's local cuisine served from 12:30 pm to 3:00 pm. We recommend a siesta and plenty of liquids to acclimate to the altitude. Enjoy Teatime at 3:30 pm followed by an afternoon excursion, Rowing through the Reeds near the lodge, where you can observe interesting endemic birds, striking landscapes of a unique geography.

Evening cocktails are served from 6.30 pm followed by dinner from 7:30 to 9:30 pm. Then join other guests and interpreters to share highlands experiences and tales.
Lake Titicaca & Puno
The Puno region features Lake Titicaca that gives you the feeling of being at the top of the world. The infinite skies are mirrored in the deep blue of the lake, and the horizon seems to bend as if it's the edge of the world. The people of the region descended from the most notably ancient Andean ethnic groups, the Aymara and Quechua. The floating islands of the Uros Indians are also of great interest. The islands are built layer over layer of tortora reeds, a prolific plant that grows in the shallows of Lake Titicaca. This National Reserve, is home to over 60 species of high altitude birds including Flamingos, and Vicuña can be seen grazing along its tranquil shores. Mysterious Inca burial tombs known as chullpa circle the lake, and the nearby town of Puno is the main port of Lake Titicaca, and while its climate is stark, Puno is a place of rich history and tradition.