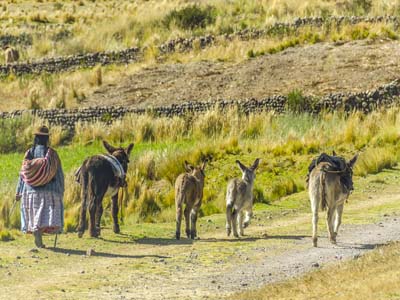 Transportation: Transfer - Hotel - Bus Station
Tour: Bus Journey to Lake Titicaca
Accommodation: Tierra Viva Puno Plaza Hotel
Meals: B
Our private vehicle will meet you at your hotel and transport you in comfort to Cusco bus station.
Bus Journey to Lake Titicaca
After an early morning breakfast, you will be transferred from your hotel to the bus station. There, you will board a comfortable tourist bus for the eight-hour journey to Puno. Travelling across the high plain of the 'altiplano', this is one of the most spectacular bus journeys in the world, with splendid views of Andean peaks along the way. You will stop off at a number of archaeological and other sites en route, such as the impressive Inca ruins of Rachi and Pucara, as well as the church at Andahuaylillas with its amazing 17th century paintings.

There are also fantastic geographical highlights, such as the high pass of La Raya, where the views include stunning snow-capped Andean peaks. The high grassland at this pass is home to all the camel-like creatures of Latin America - namely llamas, alpacas and vicunas. You will also make a stop along the way at an inn for a filling and included buffet lunch.

Upon arrival in Puno, you will be met at the bus station and transferred to your hotel. This evening you are free to explore the city and relax at your leisure. (This service is on a group basis.)
Lake Titicaca & Puno
The Puno region features Lake Titicaca that gives you the feeling of being at the top of the world. The infinite skies are mirrored in the deep blue of the lake, and the horizon seems to bend as if it's the edge of the world. The people of the region descended from the most notably ancient Andean ethnic groups, the Aymara and Quechua. The floating islands of the Uros Indians are also of great interest. The islands are built layer over layer of tortora reeds, a prolific plant that grows in the shallows of Lake Titicaca.

This National Reserve, is home to over 60 species of high altitude birds including Flamingos, and Vicuña can be seen grazing along its tranquil shores. Mysterious Inca burial tombs known as chullpa circle the lake, and the nearby town of Puno is the main port of Lake Titicaca, and while its climate is stark, Puno is a place of rich history and tradition.