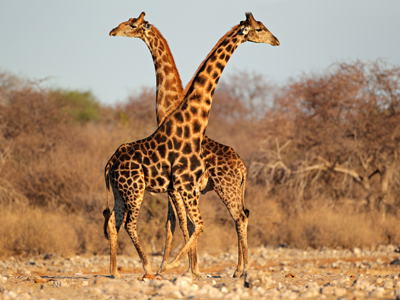 Accommodation: Bahay Susan Accommodation
Meals: B
Exit the Park from the northern, Andoni, gate today and drive further northwards to Oshakati. Bahay Susan is a quaint and charming guesthouse situated in the town of Oshakati, offering comfortable, clean and friendly accommodation in a central part of the town. The guesthouse is close to amenities such as restaurants and shops, as well as attractions in the area. All rooms include a fan, air-conditioning, fridge, double beds and a sitting area. Activities available in the area include swimming, hiking, walking, river rafting, game viewing, bird watching, Cuca shop tours, day trips and cultural tours.

This area is rich in local history and culture and you may wish to visit the Nakambale Museum or Okangororosa school near Ondangwa on your way to Oshakati. The Museum is based around an old Finnish mission station and includes a wide variety of exhibits, photos and texts which are explained in a guided tour. There is also the opportunity to visit an Ndonga homestead nearby.