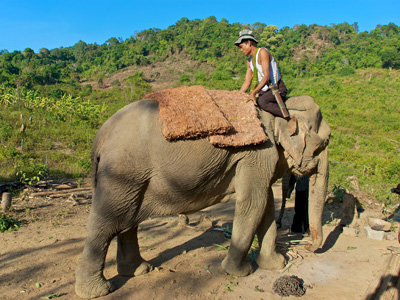 Transportation: Airport Transfers
Transportation: Domestic Flight
Tour: Forest Trekking & Elephant Experience
Accommodation: Royal Kalaw Hills Resort
Meals: B, L
Bagan - Heho
Flight #: K7 242
Departs: 9:05 AM
Arrives: 9:45 AM
This morning, you will be picked up at your hotel in Bagan and transferred to the airport in good time to board your domestic flight to Heho. Upon arrival in Heho, you will be greeted at the airport by your driver and transferred to the elephant camp for a memorable wildlife encounter. (This service is on a private basis.)
Forest Trekking & Elephant Experience
Today, your specially trained Elephant conservation guide will take you for a rewarding day in the Kalaw forest. You will have the chance to encounter elephants, their mahouts and people living in the surrounding areas.

Young tourism professionals from Kalaw, are the ones who decided to create this project in the local area. The project focuses on protecting the nature, elephants and traditions of the local people. In a major part of this private protected forest, the nature can grow undisturbed, creating a natural habitat for animals that could otherwise be easily hunted. The project includes creating a natural environment for some Myanmar elephants, as well as helping the local population to grow out of the vicious circle of poverty, through education and micro finance.

Once you have arrived, you will embark on your trek through the forest. Walks lasting anywhere from 30 minutes, all the way up to 5 hours are possible, you will just need to let us know what you prefer. Following the paths and alongside your guide, you will eventually find yourself in the natural surroundings of the jungle. Enjoy a delicious lunch of local specialties (often from Nepalese origin), served in a traditional village, amidst the nature of the jungle, or at the camp. After lunch, it will be time to start interacting with the fascinating elephants! You will have the chance to assist the mahout by washing and feeding these incredible creatures. After your unforgettable day, say goodbye to your new friends and walk back to the main road to meet your driver and continue by car to your hotel.
Kalaw
Sitting at an elevation of 4300 feet, the peaceful hill station of Kalaw offers a lush, cool respite from the heat of the plains. Known for its trekking, Kalaw is also interesting culturally with a diverse population of Shan, Indian Hindus, Sikhs and Muslims as well as Nepali Gurkhas who came to Kalaw to build the roads and railway line under British rule. Kalaw is the main setting of the novel "The Art of Hearing Heartbeats" by Jan-Philipp Sendker.