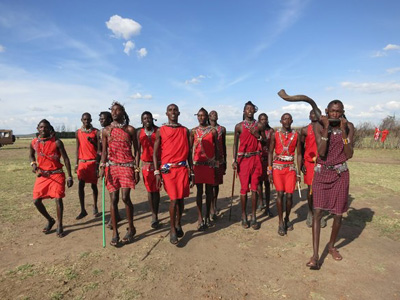 Tour: Journey to Masai Mara Reserve
Accommodation: Mara Leisure Camp
Meals: B, L, D
Journey to Masai Mara Reserve
Today you make your way by road to the Masai Mara National Reserve, arriving just in time for lunch at your camp. After lunch, spend the rest of the afternoon relaxing by the pool and waiting for the late afternoon when the temperature cools to head out on your first Mara game drive. The Masai Mara is one of Africa's greatest wildlife reserves. Acacia dotted plains, tree-lined rivers and woodlands are abundant with wildlife and an array of birdlife.

Game viewing is spectacular year round - you may see a pride of lions stalking their prey, observe a herd of elephant and their fascinating social structure or see pods of hippo wallowing in the rivers. The great wildebeest migration is one of nature's wonders; an estimated two million animals migrate in a year-round pattern through Tanzania and Kenya, following the rain. Around July each year the huge herds begin dramatic river crossings and the grasslands of the Mara are covered by a mass of moving wildebeest, offering easy opportunity for crocodile and predators that are never far away. When in the Mara, you will also have an opportunity to visit a traditional Maasai village or take a balloon safari at an extra cost.

Return back to camp in the evening for dinner providing you the perfect opportunity to look back at your day and relive all those memorable highlights.
Maasai Mara Game Reserve
The Maasai Mara is one of the best-known reserves in the whole of Africa, and is globally renowned for its exceptional wildlife. Despite comprising only 0.01% of Africa's total landmass, more than 40% of Africa's larger mammals can be found here. The Maasai Mara lies in the Great Rift Valley. The large plains and open grasslands are habitat to rich and varied wildlife such as lion, leopard, cheetah, buffalo, zebra, giraffe, crocodile etc. There are also several species of birds such as vultures, herons, shrikes, etc. The animals are at liberty to move outside the park into huge areas known as 'dispersal areas'. There can be as much wildlife roaming outside the park as inside. Many Maasai villages are located in the 'dispersal areas' and they have, over centuries, developed a special relationship with the wildlife. The annual migration of millions of wildebeest and antelope, from July to September, is a spectacle never to be missed by any visitor to the Mara.