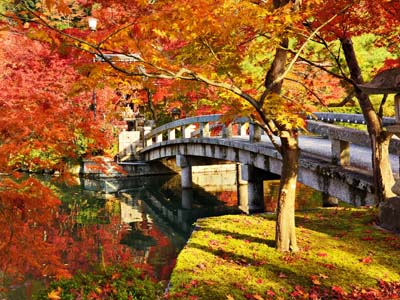 Transportation: Hakone - Odawara (Free Pass)
Transportation: Odawara - Kyoto (Train Ticket)
Tour: Tea Ceremony at En Tea House
Accommodation: Royal Park Hotel The Kyoto
Meals: B
Following a lovely stay in Hakone, you will use your Hakone Freepass to make the journey by bus down from the mountains to Odawara Station.
Today you will travel to Kyoto, Japan's ancient capital and the cultural center of the nation. From Odawara, the journey to Kyoto will see you racing down Japan's eastern seaboard by Shinkansen and takes approximately 2 hours.
Tea Ceremony at En Tea House
Today, a private tea ceremony experience has been arranged for you at the En tea ceremony house in central Kyoto. This ceremony will take place in a lovely Japanese style room complete with ikebana (Japanese flowers) and calligraphy. Your English teacher will be able to inform you about the history and philosophy of the tea ceremony as well as its relationship with Zen Buddhism before conducting a traditional ceremony in front of you. You can then have a try yourself if you wish, taste the tea and traditional sweets and of course ask any questions that you may have. The experience lasts for 45 minutes. (This service is on a private basis.)
Kyoto
Kyoto is one of the most culturally rich cities in all of Asia. Home to 17 UNESCO World Heritage sites, over 1,600 Buddhist temples and 400 Shinto shrines, this ancient city showcases the heart and soul of traditional Japan. Kyoto boasts an array of world-class gardens, majestic festivals and delicate cuisine, all of which make much of the rhythms of nature and the changing of the seasons. On first glance however, visitors will see that like any large Japanese city, grid-like Kyoto has its fair share of neon and concrete. But the discerning eye will soon pick out Kyoto's treasures: sacred shrines tucked in among shopping arcades, time-honored tea houses nestled among modern businesses and mysterious geisha scuttling down backstreets among the tourists and souvenirs. Kyoto's charm lies in these details and whether you're here for three days or three years, the closer you look, the more you'll discover.