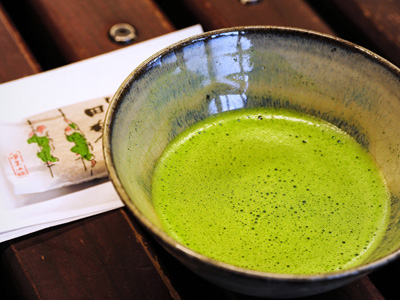 Transportation: Takayama - Kyoto (Rail Pass)
Tour: Tea Ceremony with a Tea Master
Accommodation: Hotel Mume
Meals: B
From Takayama, you will use your Japan Rail Pass to travel by Ltd Express train to Nagoya, where you will make the easy change to the Shinkansen for Kyoto. Total journey time is around 3 hours and 30 minutes.
Tea Ceremony with a Tea Master
Could there be anything more Japanese than peeling back a sliding screen door, kneeling on a tatami mat floor and slowly learning the revered art of the tea ceremony? The ancient rituals surrounding the preparation and presentation of macha powdered green tea date back to the 12th century when Buddhist monks began using tea in religious ceremonies. Later, the practice spread to samurai warriors in their aim to bring a concentrated level of awareness to everyday activities. There is certainly a controlled meditative element to the tea ceremony and the carefully prescribed movements are based on 4 principles: harmony, respect, purity and tranquility.

Today, we will arrange a visit to the home of a professional tea master who will be able to explain all about Japanese tea, the tea ceremony and its relationship with Zen Buddhism. Our tea master, Kinue Terada, has been learning tea ceremony for more than 40 years and has an incredible wealth of knowledge about this sophisticated art. You will be met at your hotel by an attendant and transfers by private car are included with the tour. Terada-san will explain about tea history and the utensils used for conducting a tea ceremony. Then she will show how to make tea and you can try yourself. As the experience takes place at a traditional private house, this is a good opportunity to experience the tea ceremony in a calm and tranquil place. The chance to visit a Japanese home is also a fascinating extra! (This service is on a private basis.)
Kyoto
Kyoto is one of the most culturally rich cities in all of Asia. Home to 17 UNESCO World Heritage sites, over 1,600 Buddhist temples and 400 Shinto shrines, this ancient city showcases the heart and soul of traditional Japan. Kyoto boasts an array of world-class gardens, majestic festivals and delicate cuisine, all of which make much of the rhythms of nature and the changing of the seasons. On first glance however, visitors will see that like any large Japanese city, grid-like Kyoto has its fair share of neon and concrete. But the discerning eye will soon pick out Kyoto's treasures: sacred shrines tucked in among shopping arcades, time-honored tea houses nestled among modern businesses and mysterious geisha scuttling down backstreets among the tourists and souvenirs. Kyoto's charm lies in these details and whether you're here for three days or three years, the closer you look, the more you'll discover.