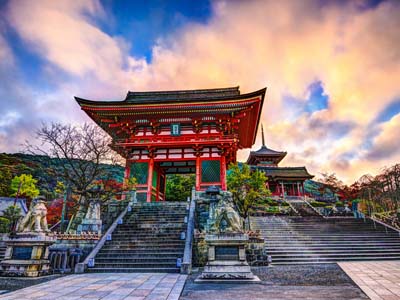 Transportation: Nagiso - Kyoto (Rail Pass)
Accommodation: Machiya Residence Kohakuan
Meals: B
Today, it is time for your journey to continue onto Kyoto. From Nagiso station, you will board a train to Nagoya, a ride of just over one hour. From there, you will change to the Shinkansen to reach Kyoto, another 35-50 minutes. You should be able to spot the Sanyo Solar Arc on the way, just past Gifu Hashima station.
Kyoto
Kyoto is one of the most culturally rich cities in Asia. Home to 17 UNESCO World Heritage sites, over 1,600 Buddhist temples and 400 Shinto shrines, this ancient city showcases the heart and soul of traditional Japan. Kyoto boasts an array of world-class gardens, majestic festivals and delicate cuisine, all of which make much of the rhythms of nature and the changing of the seasons. On first glance however, visitors will see that like any large Japanese city, grid-like Kyoto has its fair share of neon and concrete. But the discerning eye will soon pick out Kyoto's treasures: sacred shrines tucked in among shopping arcades, time-honored tea houses nestled among modern businesses and mysterious geisha scuttling down backstreets among the tourists and souvenirs. Kyoto's charm lies in these details and whether you're here for three days or three years, the closer you look, the more you'll discover.