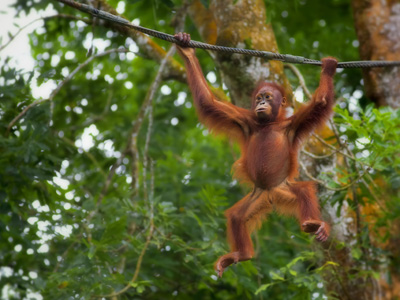 Transportation: Airport Transfers
Transportation: Domestic Flight
Tour: River Cruise & Orangutans
Accommodation: Klotok Riverboat
Meals: B, L, D
Jakarta - Pangkalanbun
Flight #: TBD
Departs: TBD
Arrives: TBD
This morning, you will be met and transferred to the airport for your direct flight to Pangkalanbun, Kalimantan, which is the closest airport to Tanjung Puting National Park.
River Cruise & Orangutans
On arrival in Pangkalunbun, meet your guide and driver and transfer to the Kumai River Harbor to board a traditional klotok—a flat-bottomed riverboat. Cruise through this bustling river port, passing shipyards where Makassar schooners are handcrafted from tropical hardwoods. Continue the cruise upriver, through forests that provide habitat for many species of birds and monkeys. Experience the vibrant life along the riverfront—take in scenes of people scaling fish, washing babies, fishing, repairing boats and curious local children waving as you pass.

During your time here, you will visit the three ranger stations at Tanjung Puting National Park—the orangutan camp at Tanjung Haraphan, Camp Leakey and Pondok Tanggui. Here, you will more than likely encounter several of the resident ex-captive orangutans that roam within the grounds of the research camp. There will be multiple opportunities to see orangutan feedings at various sites. When your guide calls out the whooping sound to announce the feeding, you will begin to hear the rustle of leaves and then experience the heart-pounding moment when these great apes swing toward you. 

After checking in at your lodge, depart by boat to the Tanjung Haraphan and hike to the feeding platform for your first chance to view these beautiful creatures in the wild.
Tanjung Puting National Park, Kalimantan
Tanjung Puting National Park is located in the Indonesian province of Central Kalimantan. The park is famous for it's resident ape - the orangutan. Here you can explore the variety of ecosystems found within the Indonesian Borneo rain forest and visit the rehabilitation center at the landmark Camp Leakey research station to get a closer look at these incredible creatures!