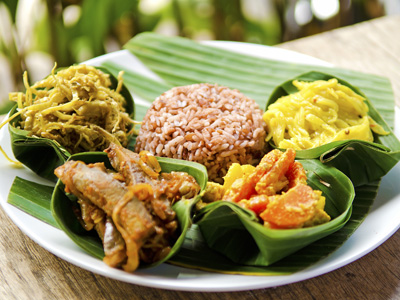 Transportation: Airport Transfer
Tour: Flavors of Indonesia Tour
Accommodation: Sudamala Suites & Villas
Welcome to Bali! Upon arrival at the Denpasar airport, obtain your Indonesian visa on arrival, if you haven't already. Clear Immigration and Customs and proceed to the arrival area. You will be greeted by your driver holding a sign with your name on it, for your hotel transfer to Sanur. The transfer from the airport to your hotel takes approximately 30 minutes.
Sanur, Bali
The beach town of Sanur is located on the tranquil south eastern end of the island. Here, you'll find quiet family friendly golden beaches, restaurants, shops and traditional charm.
Flavors of Indonesia Tour
Early this evening, you will be met by your guide at the lobby of your hotel in Canggu for your transfer to Sanur. There, you will embark on a culinary journey of Indonesia!

Food is just as much a part of the Indonesian culture, as temples and traditions are. Tonight, you will have the opportunity to embrace that culinary experience of Indonesian Flavors. The Flavors of Indonesia program is an ideal way to learn and taste some of the best local foods, in an informal and fun way. Your guide will take you on a walk to the Sindhu Night Market in Sanur, to explore the various flavors of the most popular local foods. From the ubiquitous satay, to the filling bakso soup, the peanut gado gado and the classic mie goreng, come hungry! It will be a feast to remember in a fun and colorful setting.

At the end of the tour, you will be transferred back to Canggu on a full and happy stomach! (This service is on a private basis.)