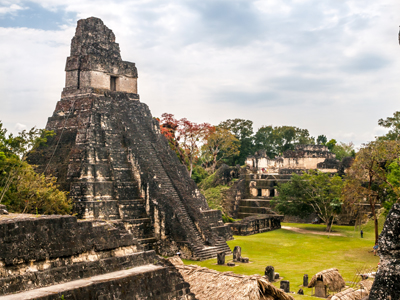 Tour: Tikal Excursion
Transportation: Hotel Transfer
Accommodation: Black Rock Lodge
Meals: B, L
Tikal Excursion
After breakfast your tour guide will meet you at the lobby of your hotel and transfer you to Tikal National Park. Your guide will show you the layout of the temples, architecture, history, some theories of why they disappeared and if you are lucky a few monkeys, parrots, macaws and toucans will be on site. After the tour enjoy lunch at a restaurant in the middle of the jungle on site. Please note that this is a shared group tour.

After lunch a private transfer will take you to your accommodations in San Ignacio. Transfer time is about 2.5 hours. On arrival, check in and enjoy the remainder of the day free.
Tikal
City and ceremonial center of the ancient Maya civilization. Tikal became an important ceremonial center with the construction of major pyramids and temples. Its best years were the Late Classic Period (600-900AD). Tikal National Park contains some of the most fascinating archaeological remains of the ancient Maya Civilization. Excavated by Pennsylvania University between 1956 and 1969, Tikal is the largest excavated site in the American continent. It is Guatemala´s most famous cultural and natural preserve.