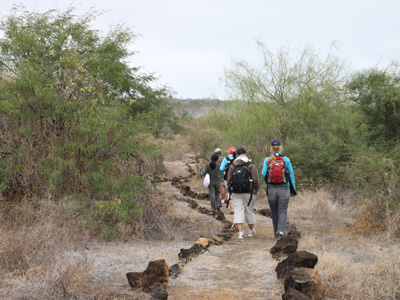 Tour: Nature Hike & Local Farm Visit
Accommodation: Floreana Lava Lodge
Meals: B, L, D
Nature Hike & Local Farm Visit
After breakfast this morning, you will leave to explore the Floreana highlands on your open-air bus (chiva) - an unbeatable, historic, and comfortable way to see the island. On the way, your naturalist guide will point out the wildlife and give you an idea of the colorful history of some of Floreana's first inhabitants, such as the Wittmers (whose descendants still live on the Island), the 'Baroness,' and the pirates that once visited here. They will also tell you about the "Enigma of Floreana," involving the mysterious deaths of several of the Island's inhabitants, a riddle from the 1930's that has never been solved.

After driving into the highlands, you reach Asilo de la Paz (Peace Haven) where your hike begins. You will walk up to this historic site, explore the pirate caves, and visit the freshwater spring that provides water for the entire Island. Along the way, you can expect to see giant tortoises lumbering around in the vegetation or even on the trail. You will venture through a rural area where the local people grow produce for their own consumption. This is a fascinating example of how these island people survive in this remote place and how over the years were able to develop an understanding of the local environment and now work to preserve their unique agricultural knowledge. On your way back to the coast, you will make a stop at a local farm, La Primavera, where you can watch the extraordinary behavior of the frigate birds who 'dance' as they wash their salty wings in the fresh water lake on the farm. With a little bit of luck, you may be able to see males puffing up the red pouches on their chests in an attempt to attract females.

From La Primavera farm, you will continue by chiva down towards Cerro Allieri and the best view point in the islands and then to Las Palmas, where the Island's first permanent inhabitant, the eccentric Dr. Ritter, lived and is buried. Arriving in 1926, the German physician believed that with a combination of exercise and the right vegetarian diet he would live to be 150 years old. He didn't, but his story is one of the many strange legends that still abound on the island. On the way, you will see spectacular views of the Floreana shoreline. Back at the lodge, you will enjoy a very special barbecue lunch, featuring a special family recipe lemonade with lemon grass family. After lunch, you can choose to practice your kayak or SUP skills, go snorkeling in La Loberia or simply relax and take in the beautiful Galapagos views from the Lava Lodge. Dinner will be at a local restaurant in the village.