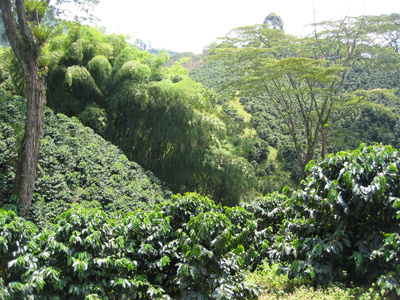 Transportation: Airport Transfers
Transportation (Air): Domestic Flight
Tour: Premium Coffee Tasting
Accommodation: Reserva El Cairo
Meals: B
Bogota - Pereira
Flight #:
Departs:
Arrives:
In the morning, you will be picked up at your hotel in Bogota and transferred to the airport in good time to board your domestic flight to Pereira. Upon arrival in Pereira, you will be greeted at the airport by your driver and transferred to your hotel. (This service is on a private basis.)
Premium Coffee Tasting
We will visit one of the most attractive coffee estates, Café San Alberto, to witness the daily activity on this traditional hacienda. Coffee cupping with an expert will bring our senses to a higher level. This excursion has been specially designed for those who want to dive deep into the cup, while enjoying one of the best views over the Quindio Valley and probably the best coffee as well.
Quindio
Welcome to Colombia's majestic Coffee Country. Quindio is the region in Colombia most well known for mass coffee bean growth, so whether you're staying in Armenia, its capital, or a countryside hacienda, activities here are likely to involve the popular cash crop. Rolling green hills, perpetually tropical green, are continuously worked by a plantation community of locals who are only too happy to feed the coffee drinkers of the world. Locals are very proud of the culture they've worked hard for, and the region's few towns are lined with small cafes serving the goods.