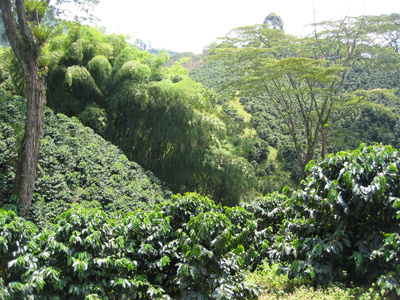 Transportation: Airport Transfers
Transportation: Domestic Flight
Tour: Half Day Cocora Valley Tour
Accommodation: Reserva El Cairo
Meals: B
Bogota - Pereira
Flight #:
Departs:
Arrives:
In the morning, you will be picked up at your hotel in Bogota and transferred to the airport in good time to board your domestic flight to Pereira. Upon arrival in Pereira, you will be greeted at the airport by your driver and transferred to your hotel. (This service is on a private basis.)
Half Day Cocora Valley Tour
Today's tour will take you from the far northeast of Quindío to the beautiful Valle Cocora where the magnificent Wax palm grows, in one of its few natural habitats, then onto the first settlement in Quindío of the modern era.

Part of the wider Parque Nacional Los Nevados, the valley is located on the eastern limits of Quindío along the central Andean range. The valley has a unique landscape like a lush version of a Swiss valley. It has been regarded by Colombia as a sanctuary for its national symbol; the Wax Palm (Ceroxylon quindiuense). The Palms cover the Mountain range, which is now protected and declared a monument to protect the tree itself and the endemic species that depend on it. The valley is spectacular and great for walking or horseback rides, either way this stunning mountain scenery will not fail to impress.
Quindio
Welcome to Colombia's majestic Coffee Country. Quindio is the region in Colombia most well known for mass coffee bean growth, so whether you're staying in Armenia, its capital, or a countryside hacienda, activities here are likely to involve the popular cash crop. Rolling green hills, perpetually tropical green, are continuously worked by a plantation community of locals who are only too happy to feed the coffee drinkers of the world. Locals are very proud of the culture they've worked hard for, and the region's few towns are lined with small cafes serving the goods.