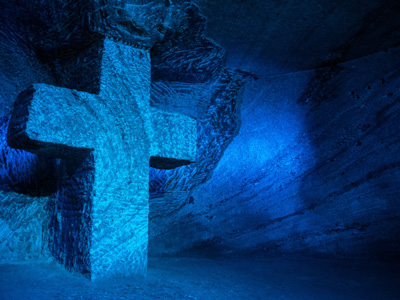 Transportation: Airport Transfers
Transportation: Domestic Flight
Tour: Salt Cathedral Tour
Accommodation: Hotel Getsemani
Meals: B, L
Pereira - Villa De Leyva
Flight #:
Departs:
Arrives:
In the morning, you will be picked up at your hotel in Pereira and transferred to the airport in good time to board your domestic flight to Villa De Leyva. Upon arrival in Villa De Leyva, you will be greeted at the airport by your driver and transferred to your hotel. (This service is on a private basis.)
Salt Cathedral Tour
Today, you'll visit the Salt Cathedral of Zipaquira. Traveling north of the city, through countryside once occupied by the native Muisca Indians, Zipaquira is one of the more popular tourist destinations in Colombia. Zipaquira is home to a Cathedral carved underground, in a still functioning salt mine, just west of the town.

The subtle lighting pronounces the fourteen Stations of the Cross, as you descend in to the mine. Each station was carefully sculpted by a different artist. At the deepest point of the cathedral, 180 meters below the earth's surface, you encounter the nave and the north and south aisles, which are dominated by the 16m high central cross. The illumination and execution of the work is a tribute to modern techniques and years of work and dedication from the miners and artists. Your guide will explain all about the cathedrals construction and how it and the mine still function in harmony.

Enjoy a two course meal lunch with a non alcoholic beverage, during the tour at Zipaquira today. At the end of your exploration, you will be returned to your hotel. (This service is on a private basis.)
Villa De Leyva
As awesome as they may be, you might eventually get tired of the big Colombian cities. Villa De Leyva, the perfect colonial village frozen in time, might just be the cure. White buildings frame cobblestone roads, and modern buildings are a rarity. Originally a retreat for Spanish nobles, Villa De Leyva remains a popular day trip from Bogota, and you'll be sharing the tourist markets with Colombians as well as foreigners.

Thanks to all the new tourist attention, the village is transforming. Luxury boutique hotels, modern restaurants and big markets are popping up all over town. The result is the perfect mix of modern convenience, and old school surroundings. If you're seeking an even more authentic atmosphere, plenty of day trips to the smaller villages in the region are definitely an option.