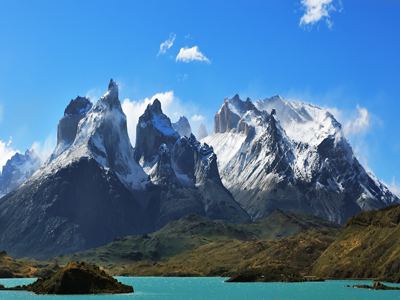 Transportation: Airport Transfers
Accommodation: Patagonia Camp
Meals: B, D
After breakfast, a private transfer will take you to Santiago airport where you will catch you domestic flight to Punta Arenas. Upon arrival to Punta Arenas, a shared transfer will drive you to your hotel, Patagonia Camp, just outside of the Torres del Paine National Park.

Patagonia Camp is a camping ground like no other. Located on the shores of Lake Toro close to the Torres del Paine National Park, the camp is the ideal place to explore this part of Patagonia, combining the adventure of camping with the comfort of a hotel. Guests are housed in one of 18 yurts, all of which have a view of Lake Toro and the Paine Massif. There is one building that serves as a restaurant, bar and lounge and all are connected by elevated walkways. Excursions are organized by experienced and knowledgeable guides and focus mostly on hiking. This is a really unforgettable camping experience.
Patagonia
So much of Chile feels like a final frontier that has not yet been fully explored, and Patagonia leads that charge. This fascinating region is well known as the dream destination of outdoor adventurers and intrepid backpackers, but year after year, it is getting easier to travel to this destination. New lodge and hotel properties open often, offering more access to this majestic gem. However, don't you worry, Patagonia will never loose its charm of feeling remote and un-plundered...it is simply now able to offer its natural beauty to more explorers.