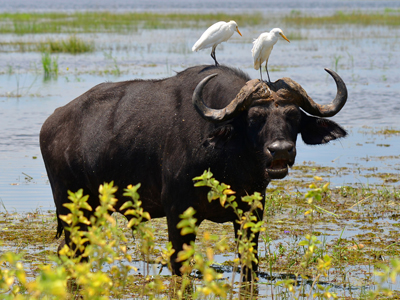 Transportation: Internal Transfer
Transportation: Domestic Flight
Accommodation: Ghoha Hills Savuti Lodge
Meals: B, L, D
Kasane Airport - Ghoha Hills Savuti Airstrip
Flight #: Mack Air
Departs: TBA
Arrives: TBA
Today you will check out of the Victoria Falls Safari Lodge and transfer to the Kanase Airport for your quick local flight to Ghoha Hills Savuti Lodge. On arrival at the airstrip, you will be met and transferred to the lodge to check in and enjoy the beautiful surrounding area.

Guests usually arrive at Ghoha around midday or later in the afternoon, you can join for high tea in the main area. Here you will be introduced to your guide and he will take you on a sunset drive along the private road network around the lodge. This will end at the scenic Baobab site with breathtaking sunset views and sun-downers served. Photographers as well as nature lovers will experience a very unique landscape during sunset, which is usually filled with Elephants, Giraffes and Roan Antelope to name a few.

If an afternoon drive is not what you are after, you can relax in the private thatched viewing deck overlooking the water hole. From this private elevated setting you can view the arrival and movement of a wide variety of game, quenching their thirst in the pan. Some of the sightings may include Kudu, Impala, huge numbers of Elephant, Giraffes, Roan Antelope, Steenbuck and Buffalo. You might also spot the Ghoha pride of Lions that roam mainly between the lodge and this waterhole, as well as Spotted and Brown Hyena.
Chobe National Park
Chobe National Park, in northern Botswana, has one of the largest concentrations of game in Africa. By size, it is the third largest park in the country, after the Central Kalahari Game Reserve and the Gemsbok National Park, and is the most biologically diverse. It is also the country's first national park.

Chobe National park is a essential destination while on safari in Botswana. The Chobe floodplains and Chobe River provide a sensitive ecosystem where the wildlife of Botswana concentrate during the dry season. It is not uncommon to see between 500 and 5000 Elephants on these floodplains at one time. The highlight of a visit to Chobe National Park is the combination of wildlife, Birdlife and reptiles along the banks of the Chobe River. This is a photographers dream.