Perhaps more than any other island in Thailand, the Phi Phi Islands represent "paradise": the soaring vertical limestone cliffs, the crystal clear waters, the blinding white sand beaches … incredible! Thailand has many islands that lie in the larger Gulf of Thailand (like Ko Samui) and the Andaman Coast (such as the Ko Yao Yai), but few if any of these compare. Phi Phi, Thailand is calling your name, so let's explore these incomparable islands!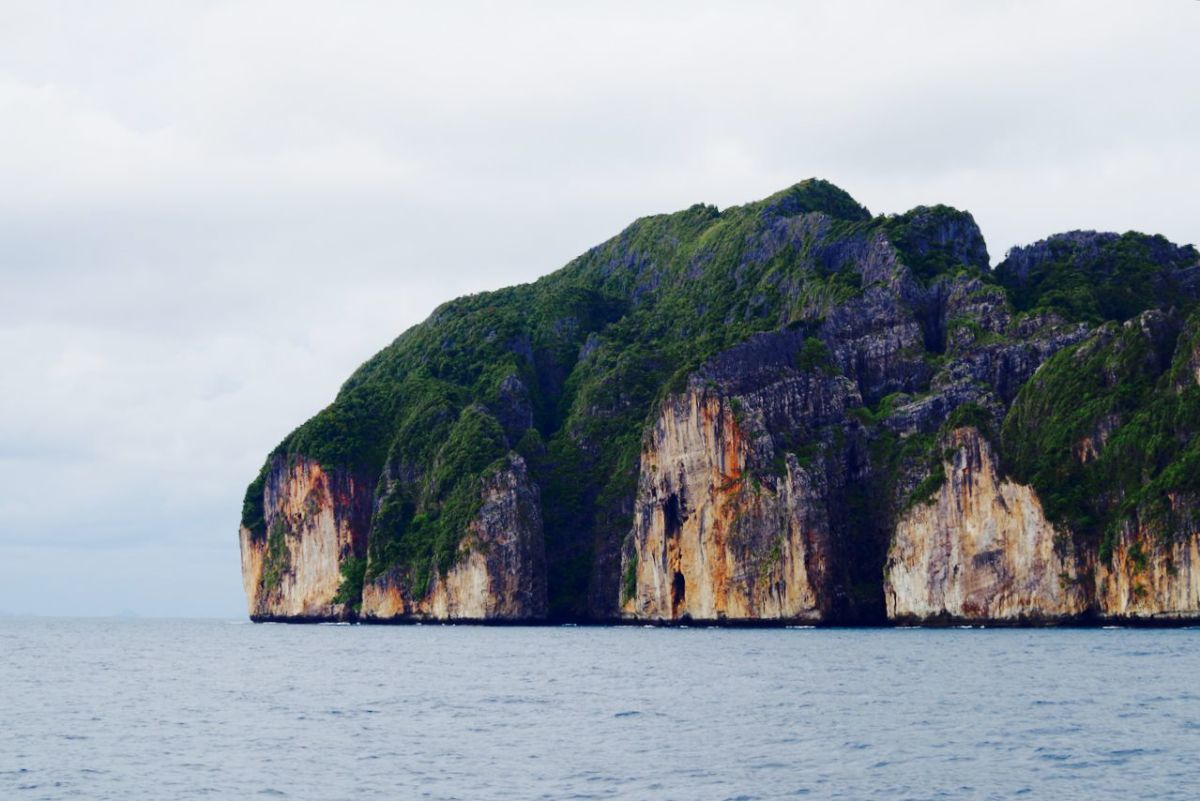 The Phi Phi Islands' limestone cliffs (called "karsts") greet travelers on arrival. Photo:@colinhrichard
Where is Phi Phi Island?
When we talk about Phi Phi, we are actually referencing a group of six islands in the Andaman Sea off Thailand's west coast. Lying at the entry to Phang Nga Bay to the south of Bangkok, the two main islands are named Ko Phi Phi Don and Ko Phi Phi Leh. "Ko" is sometimes spelled "Koh", both in this instance and in that of other Thai islands, and "Leh" can also be spelled "Lee". Though the spelling may look like in could be pronounced as "Fifi island" with a sharp "f" sound, it is pronounced with more of a "p" sound plus some "h", as in "P-hee P-hee Island".
Including and beyond the Phi Phi Islands, Thailand as a whole was thrust into the limelight in the year 2000 by the Leonardo DiCaprio movie "The Beach". The island that was the setting for the movie was Ko Phi Phi Leh - we'll discuss the movie's impacts on the island a bit below. Thailand tours don't end at Bangkok, Chiang Mai and Phuket, but call for some island time in order to see some of the scenic highlights this country has to offer!
Getting to Phi Phi
The ferries and speedboats that run between the regions of Krabi and Phuket, each about 25 miles/40 kilometers away land on the main Phi Phi island, Ko Phi Phi Don, at Ao Ton Sai Pier. Here, passengers disembark and walk to their accommodations on foot, as there are no cars on the island. A delightful contrast to Thailand's city environments, the traffic on Phi Phi is foot, push cart, and bicycle only!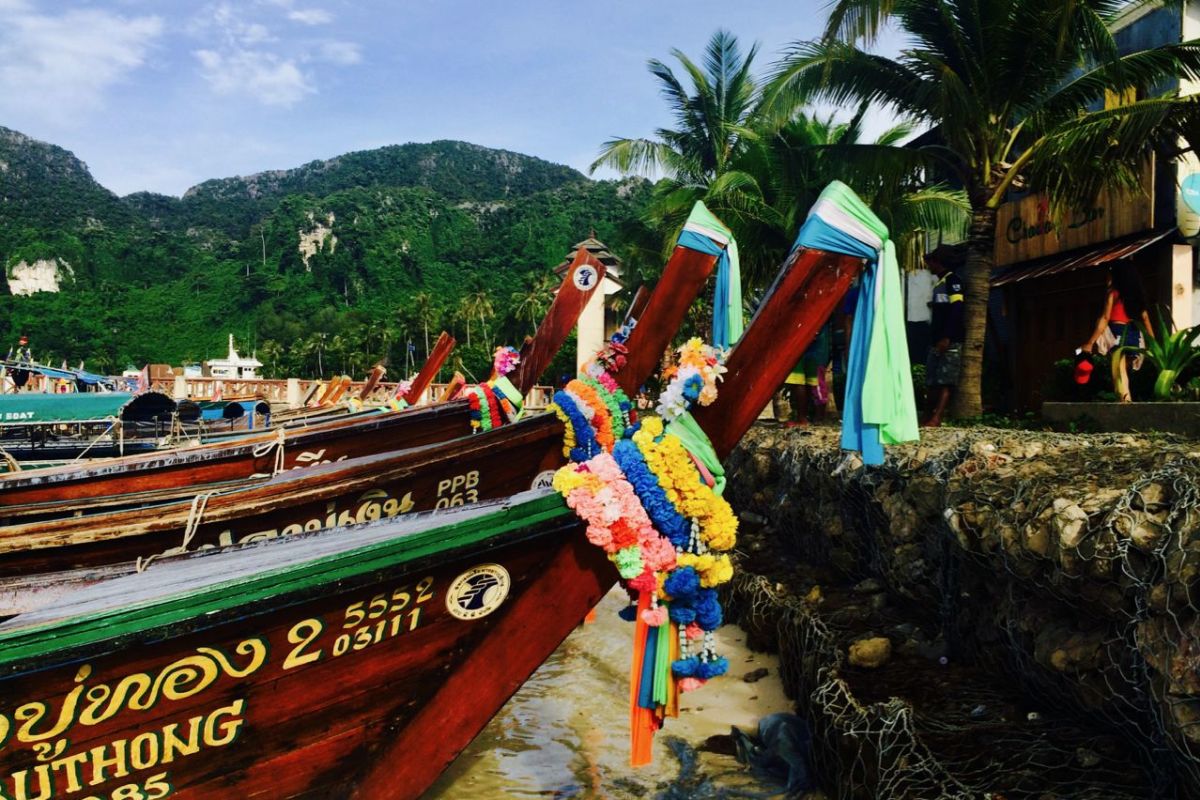 Ton Sai Beach is a kaleidoscope of colorful longtail boats, restaurants and shops, easily accessed by a waterfront footpath.Photo:@colinhrichard
What To Do On Phi Phi Islands
On the Phi Phi Islands, Thailand and its iconic beauty are at their best! Ko Phi Phi Don consists of two dramatic highland sections of limestone cliffs connected by a stretch of beach lowland where the majority of hotels and fine resorts, restaurants and activity operators are. To the south of this strand is Ton Sai Beach, busy with the trademark longtail boats, a meandering walking path that hugs the shoreline, and wonderful waterfront dining establishments. To the north is the quieter Loh Dalum Beach, perfect for mellow walks day or night, sunbathing and appreciating the jagged rock formations offshore.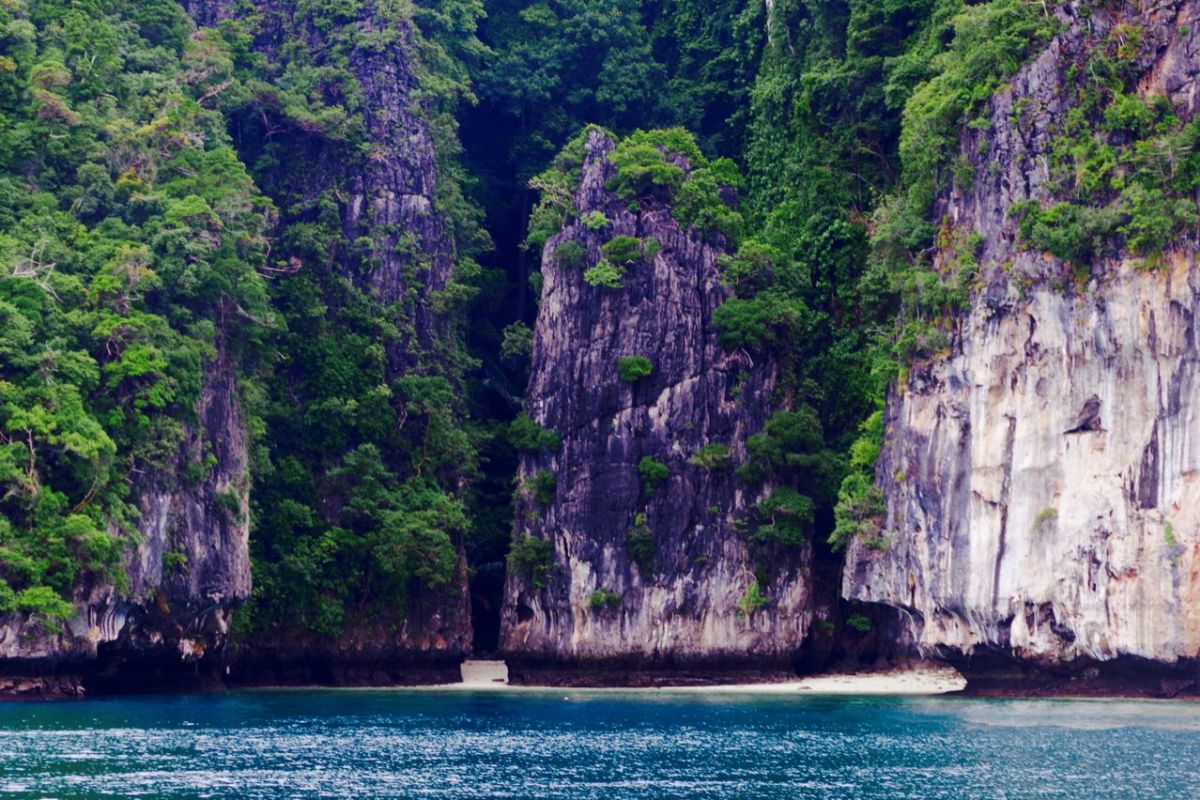 While many of Ko Phi Phi Don's beaches are well attended by travelers, some secret ones can still be found! Photo:@colinhrichard
Though small in size (totaling about 5 sq mi/12 sq km), there is no shortage of things to do on land and at sea on Phi Phi. An assortment of delicious restaurants are scattered throughout Ton Sai Village, and if you're keen on developing your Thai cooking skills, Pum's Cooking School is hands-down a top choice.
A 20-30 minute detour from the main Ton Sai Village footpath will take you up quite a few stairs to the most famous of the Ko Phi Phi Don lookouts, where you can see the entire village, half of Ko Phi Phi Don, as well as Ko Phi Phi Leh in the distance! Go before 10am for the best morning lighting when the turquoise lagoons glow brightly, and of course at dusk when rain squalls can produce stunning sunsets!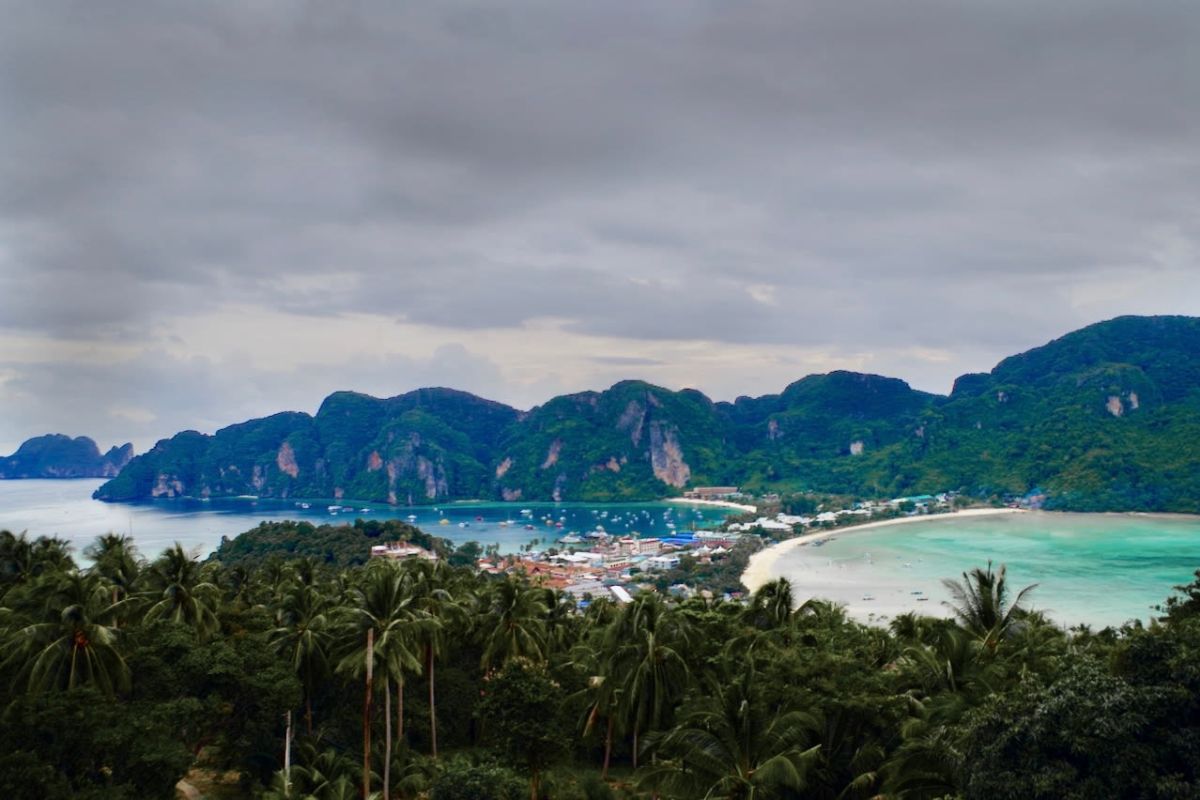 Ever popular with travelers - and for good reason! - this is the main lookout on Ko Phi Phi Don. Photo:@colinhrichard
Time at beaches is of course mandatory, and spots like Loh Lana Bay and Loh Moo Dee Beach are gorgeous and easy to access. Also, isolated destinations like Niu Beach, along with other secret spots, are best accessed by boat. Monkey Beach is also beautiful, and a good place to see the famous crab-eating macaque monkeys that are common on the island. But a word to the wise: give these furry friends their space! Please do not further accustom them to getting attention, including food, from people, and they WILL steal from you if they have the chance! Keep your wallet, camera and snacks close at hand when they are around.
Phi Phi Ocean Activities
Offshore, visits to smaller islands and diving of various kinds is where the adventure lies, with Bamboo Island being a top destination. At times, it has been possible to visit Ko Phi Phi Leh's Maya Bay, made famous by the "The Beach" movie. However, "overtourism" of the island has caused closures to tourism, and we recommend considering the many other options that exist in the area that more align with our mission of sustainable travel.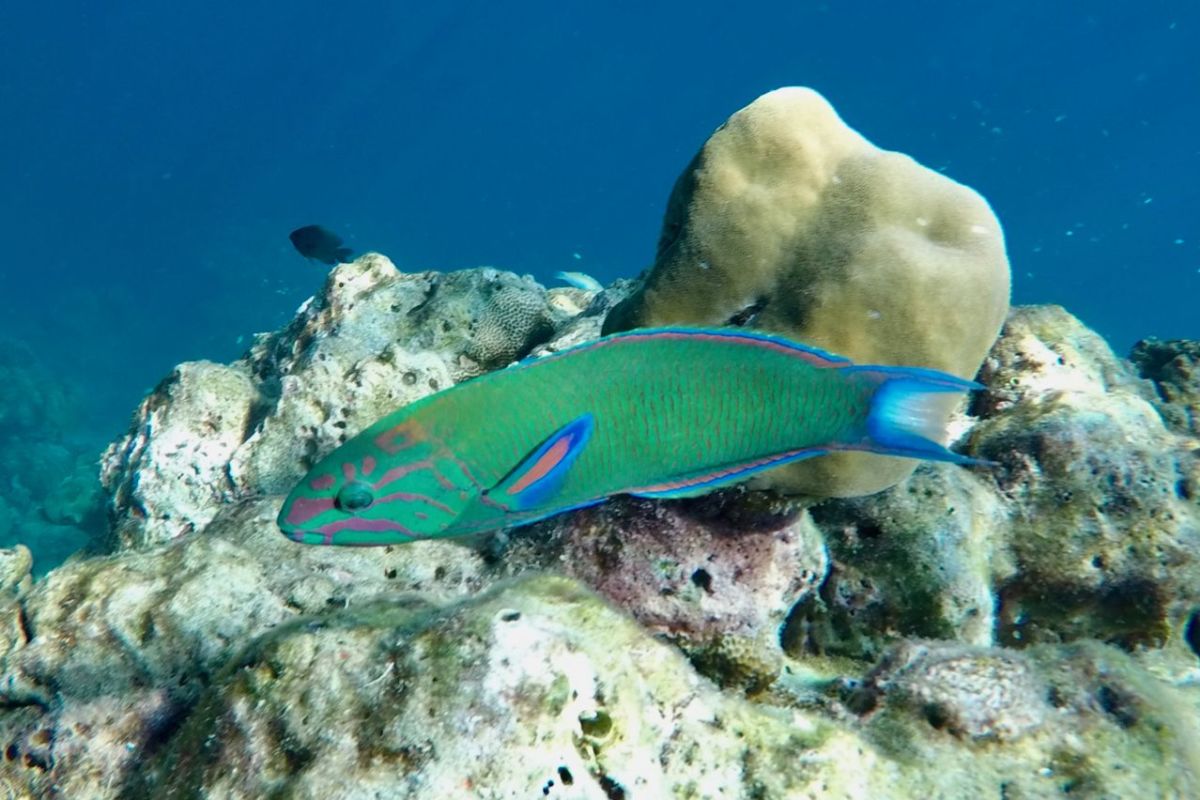 Parrotfish and wrasses (seen here) are two iconic nearshore fish you'll see when enjoying Phi Phi's beautiful reefs. Photo:@colinhrichard
Numerous snorkeling, SCUBA diving and sightseeing boats are available to explore the portion of Hat Nopparat Thara-Ko Phi Phi National Park that includes these islands, and stretches all the way to the mainland at Krabi's coastline.
SCUBA diving Hin Muang and snorkeling the coral gardens at Hin Klang are two of the best, but so is scoping out the placid sharks at Shark Point back on Ko Phi Phi Don. You needn't go far to have an awesome undersea experience!
At Ko Phi Phi, Thailand and its island glory shine their brightest! If seeing the most spectacular scenery - from the sheerest cliffs, to the whitest sand and clearest water around - while enjoying prime accommodations and fine fare is your idea of awesome, then Phi Phi is the obvious pick. Don't forget your swimsuit and suncreen, and get in touch with Global Basecamps today to start planning!