Thailand's further flung destinations in Chiang Mai's hill country and Krabi's beaches are major draws for obvious reasons: who doesn't want to spend the day with young elephants, or chill on white sand beaches? But not so fast … Thailand's capital of Bangkok boasts more cultural treasures than you can count, all of which are highly deserving of our attention! What are some of our top things to do in Bangkok? Come along as we explore this amazing metropolis where Thai tradition meets modernity!
Figuring out what to do in Bangkok, one of Asia's great megacities with 16 million people, can feel overwhelming. However, populous as it is, Bangkok is also spread out over a large area and lacks the crush of humanity that one experiences in Tokyo, Jakarta and Delhi. Sometimes considered the "Venice of the East", its canal system and proliferation of riverboats lends a unique ambiance that - like Italy - is also graced by more delicious food than a trip of any length can even begin to appreciate! From touring street markets to ancient temples and modern art, Bangkok offers an adventure in and of itself. Fun things to do in Bangkok are in abundance, and with so much going on, it's good to have an idea where to start.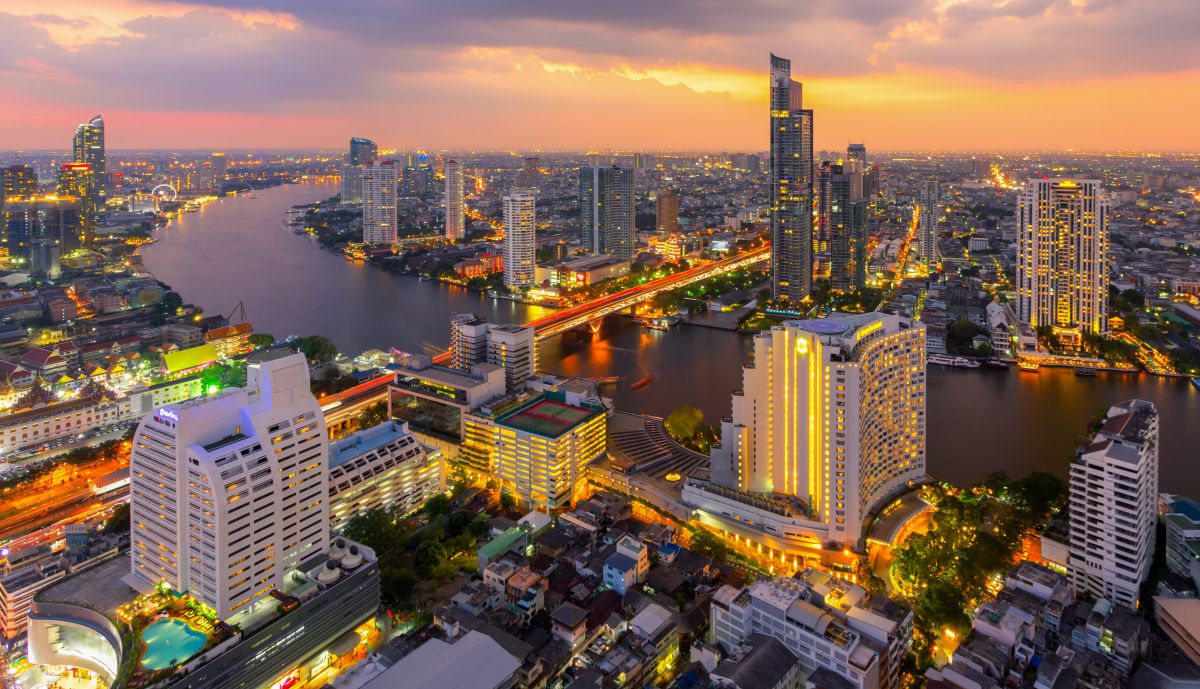 Thailand's urban areas are renowned for ancient history that weaves seamlessly into today's advances, and Bangkok attractions profile both very well. Central Bangkok is a great place to start exploring, as a number of top sites lie within a short distance of one another right along the Chao Phraya River.
Many of the top things to do in Bangkok and other parts of Thailand in terms of cultural visits have to do with the predominant religion: Buddhism. The Grand Palace of Wat Phra Kaew is regarded as the holiest location in Thailand and dates back to 1782 and the ascent of King Rama I during the Chakri Dynasty, serving as his residence and the royal administration offices. The Palace is also the home of the symbolic Lak Mueang city pillar of Bangkok, and Wat Pho, the enormous Reclining Buddha. These share the temple grounds with incredible world heritage collectively recognized by UNESCO as the birthplace of public education in Thailand and of the practice of Thai massage, and continues to house a school of traditional medicine. Seeing the history of these hugely important parts of Thai culture should be a part of all quality Thailand tours, and Global Basecamps is proud to feature them!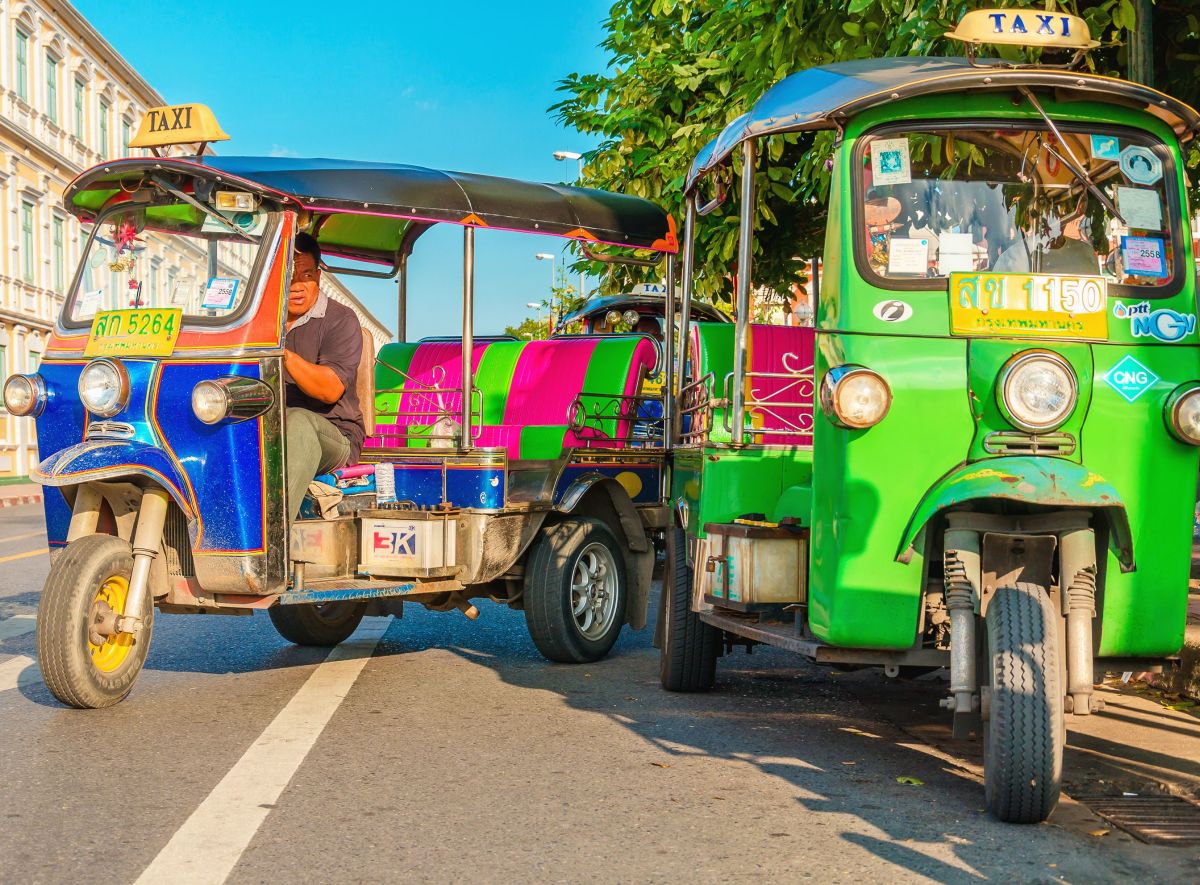 Also in this area is the Temple of the Emerald Buddha, which houses a jade (not actually emerald) Buddha statue that is surrounded by legend and mystery. Though just two feet tall, this meditating Buddha dates back to the 15th century and plays a big role in the country: it is held to be a guardian of the Kingdom of Thailand. These are a few of the top picks of what to see in Bangkok.
The Pathum Wan District also has several "Bangkok must see" sites that are not to be missed. The Bangkok Arts and Culture Centre is a sleek, spotless and ultra-modern building with numerous floors and arcing walkways that hosts visual and performing arts and events, and also has a cafe, shops and a library. The most liberated and rebellious of the modern arts - graffiti! - is the medium du jour at Chalermla Park, a.k.a. "Graffiti Park", where your jaw will drop as an array of incredible street art wows your gaze.
The Jim Thompson's House's group of six traditional Thai teak houses showcase his collection of art, especially textiles, and is lauded by locals and visitors alike. Thompson was an American architect who, in the mid-20th century, collected art from around Southeast Asia, including statuary, paintings, and textiles as the industry was floundering. It has been said that Thompson "almost singlehandedly saved Thailand's vital silk industry from extinction".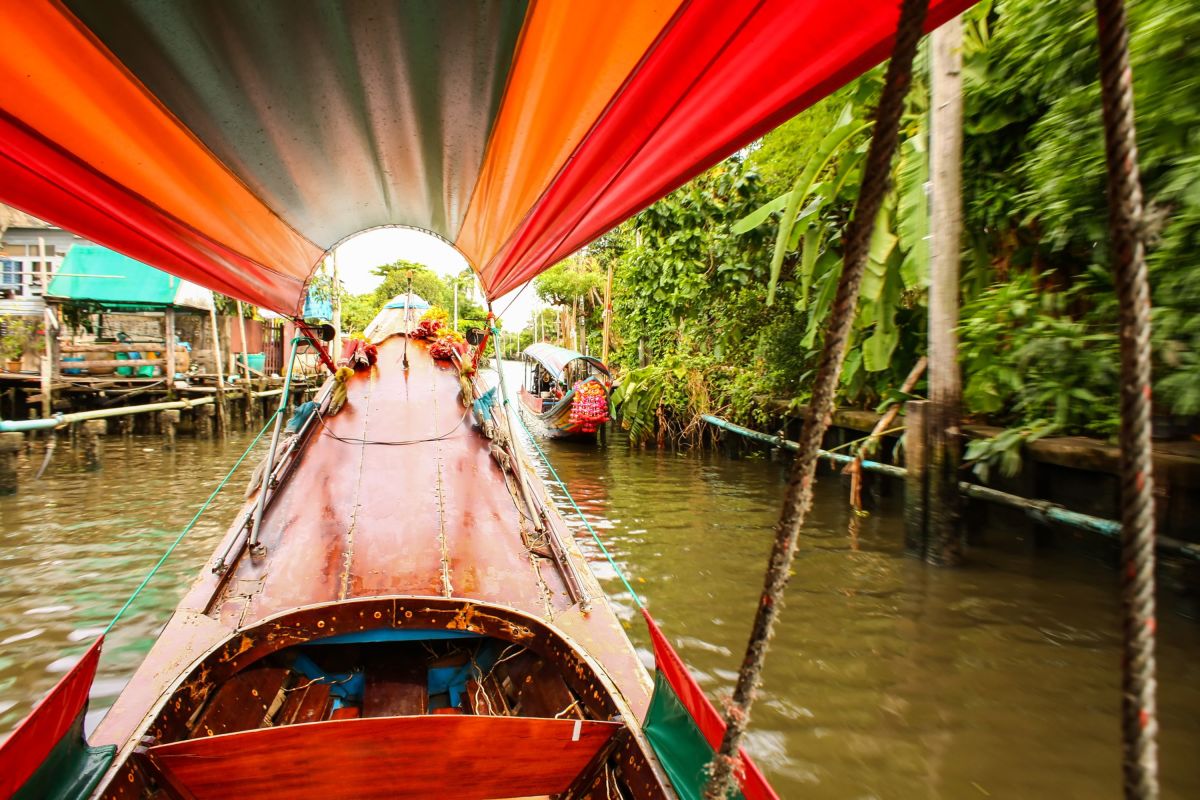 A must do in Bangkok is to ride a water taxi on one of the city's innumerable canals or the main Chao Phraya River, and when in this part of town, you're in luck! Right across the river from the Grand Palace of Wat Phra Kaew is the Wat Arun, the Temple of Dawn. Hop in a water taxi for a fun and functional way to reach this temple named after the Hindu god Aruna, which has architectural aspects that also reflect Cambodian Khmer and Chinese styles. The god Aruna is often associated with the sun, and the temple is sometimes referred to as one of Bangkok's most prominent landmarks with its spire that reaches over 220 feet into the heavens.
One of the most interesting places to go in Bangkok is the Giant Swing, once used for a daring ceremony that represented the Hindu gods Brahma and Shiva. Nearby are many iconic sights of Thai folklife, as well as the delicious culinary experience of the Chinatown Foodie Tour.
A Few Tips for your Time in Bangkok
Be sure to have a ride in a tuk tuk, the three-wheeler taxis that zip around the city. The songthaew pickup truck taxis are conspicuous as well, but not nearly as fun!
If you are looking to buy some jade, avoid the cheapest sellers who vend items that are made of imitation materials.
If heading towards the entry of a major attraction like a famous temple, pay no heed to people who insist it's closed and that they have a better option for you - they are likely to be seeking to just funnel you towards an attraction they'd like to sell you on instead!
As you peruse things to do in Bangkok, Thailand and its culture will come alive. This country is rich with inspirational experiences, and in Bangkok, so many of them lie within just a few moments of one another. Get in touch with our Travel Specialists to start planningyour life-changing trip to Thailand today!