Japan is a nation that spans an incredible spectrum of time and place, from ancient forests and mountains to cutting-edge, modern cityscapes. Amidst all this, it seems to maintain a sense of reverence no matter where you go, especially at its sites of spiritual significance. Though the crowded streets, skyscrapers and trains of Tokyo might make peace and transcendence feel a bit out of reach, both locals and travelers have a window into traditional Japanese life at the many temples that can be found across the archipelago of islands. The temples in Japan can truly be a highlight of your visit!
Spiritual Traditions of Japan
The main spiritual practices of Japan are Shinto and Buddhism. Shinto is the older of the two, and is an earth-centered folk spirituality that focuses on kami spirit-dedicated shrines as opposed to larger temple buildings. Shinto's ancient beliefs and practices, however, are still highly integrated into Japanese culture.
Buddhism is the more official, societal religion, having come to Japan from China around 500 CE and now widespread across the nation. Shinto shrines and Buddhist temples can be found close to one another, often on the same footprint of land, but the Buddhisr presence is much more conspicuous with its large temples and other structures and practices. Japan tours are the perfect way to get to to know this culture, simultaneously highly modern and reverent of its ancient heritage, with a harmony that few cultures can claim.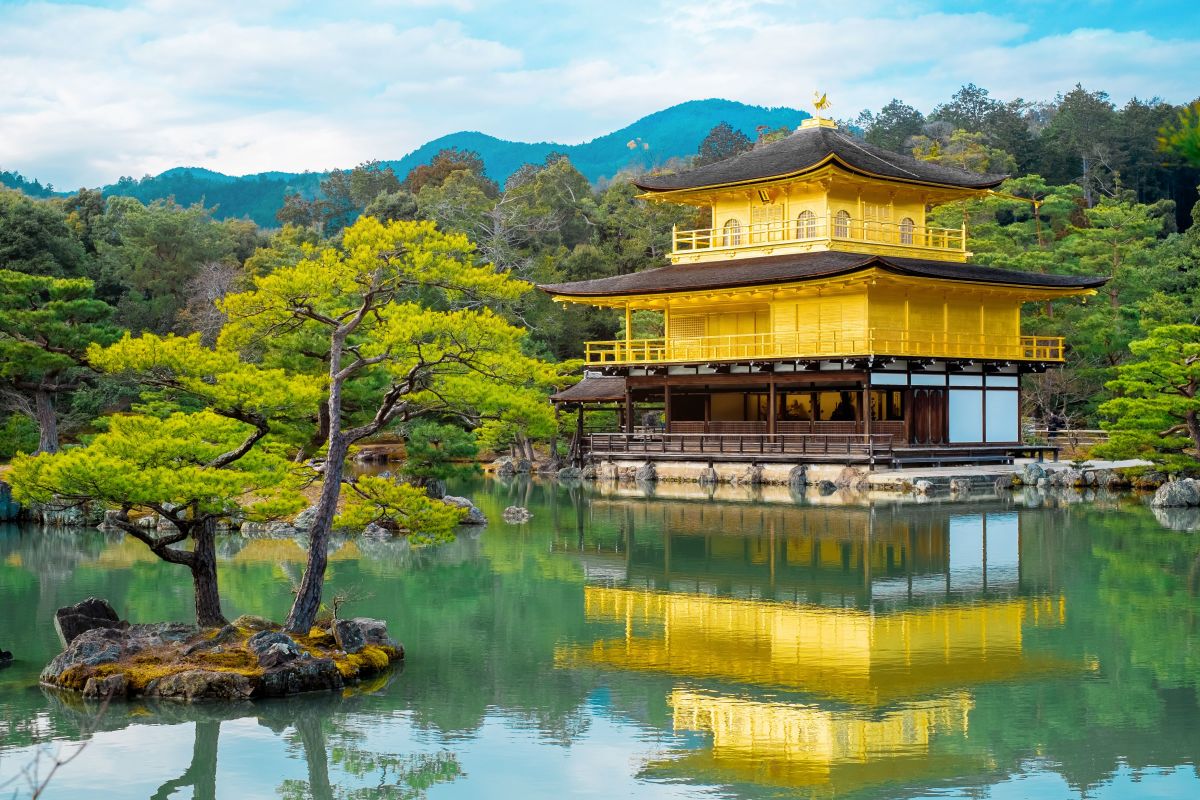 Buddhism is sometimes considered a religion, while other times deemed a philosophy, and came from the Hindu tradition of India. The iconic Japanese Buddhist temple, Buddha statue, and robe-wearing monk are some of the quintessential representations of this beautiful tradition that can be seen across this country. Though these representations of such an ancient way of life may seem so far removed from its modern miracles, even at Tokyo temples - with their urban monks - can this enduring way of life be seen!
When traveling, showing respect for the cultures we visit is a top priority, especially when it involves spirituality and revered belief systems. Some knowledge and awareness principles apply to any Japan temple site you may be visiting, so let's learn a little more about these sacred sites.
Japan Temples: The Basics
Many of us still unfamiliar with these works of cultural architecture might do a bit of word association ("Japanese Buddha temple", for instance) as we dream of visiting Japan and learning about how its philosophy is expressed in buildings and customs. We may already know that Buddhism is widely practiced, and that Japanese temples must be common in order to have gained such popularity as an icon of this special country.
Indeed, temples are common in Japan - every municipality will have at least one, while some places cities will have hundreds and even thousands! Kyoto is an example of an area particularly rich in temples, having close to 1,600!
A common word for Buddhist temple in japanese is tera (?). A helpful tip to know is that when you may observe the spelling of spiritual sites, the word endings -teri, -ji or -in, temples are being referred to, while the endings -jinja, -ingu or -taisha indicate that a Shinto shrine is being is instead.
Mindfully planned, masterfully constructed and intricately decorated, the typical Japanese temple often has both Shinto and Buddhist elements. The overall temple temple layout is almost always more Buddhism-themed, and has a number of elements in accordance with Shichid? garan, a term that describes the "ideal" layout of a Buddhist temple. These elements include gates, main and lecture halls, roofed passageways, pagodas, a belfry, a scripture and books repository, and a graveyard.
A number of Buddhist schools of thought have influenced the building of the country's temples, and the incredible construction and fascinating cultural significance has earned a few of them UNESCO World Heritage Status.The Fujisan and Kii Mountain Range areas are absolutely teeming with UNESCO recognized temples, shrines, forests and other incredible designated locations!