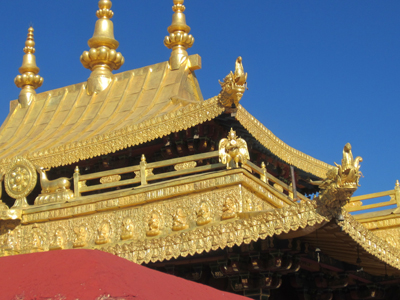 Tour: Potala Palace, Jokhang Temple & Barkhor Street
Accommodation: New Century Lhasa Hotel
Meals: B, L
Potala Palace, Jokhang Temple & Barkhor Street
Today your guide will introduce you to the Potala Palace, Jokhang Temple and Barkhor Street.

Potala Palace is the former winter home of the Dalai Lama, a vast, awe-inspiring maze of corridors and stairs leading through countless rooms of richly decorated statues, tombs, murals and antiques. You will climb past the White Palace into the Red Palace, where the file of pilgrims offering silk scarves, coins or yak butter to burn in the shrines combine to make this an unforgettable experience.

Housed within the Red Palace are several mausoleums of previous Dalai Lamas. The mausoleum of the fifth Dalai Lama, is overlaid with gold, diamonds, pearls, and many other precious gems. The White Palace became known as the winter estate of this saint of Buddhism. The golden roof group is a unique view of the Potala Palace. It's on the top of the Red Palace, composed of seven roofs made of gilded bronze. Please note good physical condition is required to climb the long stairways.

Jokhang Temple is the spiritual center of Tibet and the holiest destination for all Tibetan Buddhist pilgrims. In the central hall is the Jokhang's oldest and most precious object, a life-sized sitting statue of Sakyamuni when he was 12 years old. It is a gilded statue adorned with many jewels, in an elaborate setting. It is the most sacred statue in the eyes of the Tibetan people. Many locals pray here regularly; the temple is surrounded by Barkhor Street and thronged with pilgrims and visitors.

Built about 1,300 years ago, The Barkhor (pilgrims' circuit) is found in the heart of Lhasa encircling the Jokhang Temple. In the past, it was a designated circumambulation circuit, "a saint's road" in the eyes of Tibetans. In the street you can experience the mysterious "one-step-one-bow" way to religion. The old circuit is always crowded with pilgrims from everywhere.

Enjoy lunch at Steak House Restaurant.