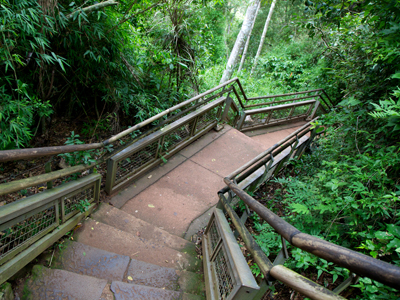 Transportation: Airport Transfers
Transportation: Domestic Flight
Tour: Brazilian Side Half Day Tour
Accommodation: La Aldea de la Selva Lodge
Meals: B
Departure_City - Arrival_City
Flight #:
Departs:
Arrives:
Today, you will be picked up at your hotel and transferred to the airport in good time to board your domestic flight. Upon arrival, you will be greeted at the airport by your driver and transferred to your hotel. (This service is on a private basis.)
Brazilian Side Half Day Tour
Today, you will have the opportunity to cross the border into Brazil, to view the falls from a different perspective as compared to the Argentina side. Your private half day tour begins at the Visitors Center, where thematic buses will take you to the start of the footbridges. From there, you will begin your walking exploration to observe the lush green nature and simplistic beauty all around you. Take your time admiring the scenery from up close and taking advantage of all the photo opportunities along the way, as you guide teaches you all about the surrounding region. Wander through the many scenic walkways and balconies, until you have reached Puerto Canoas, a food and shopping area, where you will have time to rest your feet and reminisce on the experience. (This service is on a private basis.)
Iguazu Falls
The waterfalls of Iguazu are located in northern Argentina, near the border of Paraguay and Brazil. They are made up of 275 falls, some of the cascading waters rushing up to 80 meters high! The 1,000 meter foot bridge on the Argentinian side will lead you to the largest of the falls, La Garganta de Diablo, the Devil's Throat. You can hike the trails on the Argentinean side, as well as the Brazilian side for various perspectives of the breathtaking scenery. Both sides offer exceptional views of the majestic waterfalls and the rich green jungle that surrounds the area. The natural beauty here is simply incomparable.